Photos by Jamie Alexander
Hai Soe, a 25-year-old local artist, says that as a child he was barely aware of art.  "I didn't know – I didn't see art, I didn't know it was important," he recalls. His lack of exposure to art was due primarily to the fact that he spent ten years of his early life living in a refugee camp in Thailand. There, he admits, his perception of art as having "little value" was framed through a lens of living a life that was rooted in survival and necessity rather than extras. "When I was little, I liked art, but there were no materials in the refugee camp to do art. You maybe had maybe a pencil and a sketchbook." 
Around the time Hai Soe was 15, he and his family—his parents, four brothers and two sisters—left the refugee camp and moved to Austin, Texas. In Austin, Hai Soe was enrolled at Reagan High School, which had over 2000 students. He spoke no English and says it was very stressful, as he could not communicate with anyone, even the bus driver.
Though he made some friends and improved his English through playing soccer in Austin, it was when he got placed in a general art class that he began to feel at home. "It was better than the other classes, because you didn't have to speak," he says. He picked up sketching first and quickly moved to more challenging mediums, such as acrylic and watercolor painting. "The art teacher encouraged me, but I didn't understand her," he recalls. "I just kept creating."
After two years in Austin, Hai Soe and his family relocated to Owensboro, where there was a burgeoning community of Karen refugees. By the time he enrolled at Owensboro High School, he had aged out of KHSAA eligibility and was not able to play soccer for the Red Devils. He counteracted his disappointment with not being able to play soccer, which had helped him feel connected to his peers in Houston, by dedicating himself to art.
"Art made me feel happy," he says. At OHS, he also met Rex Robinson, a well-known local artist who taught high school art for many years. "I was inspired by Mr. Rex and his work," Hai Soe says, "and I knew I could do art like that, too."
Robinson remembers when he met Hai Soe, "he sat in a corner and never said a word to anybody, but when I showed him things, he understood me and learned very quickly."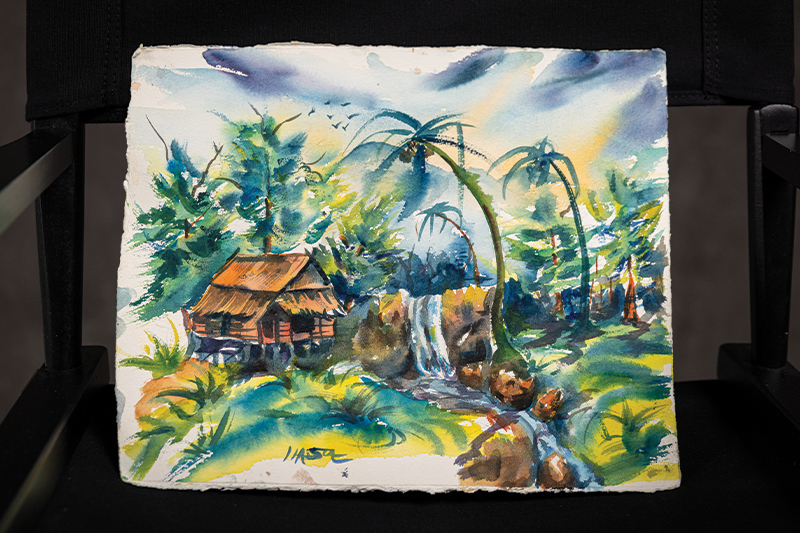 After graduating from OHS, where he was very proud to receive the outstanding art award for the class of 2015, Hai Soe found work in the community and managed to obtain an Associates Degree in Fine Art from OCTC. He says he produces "about ten pieces a month" and focuses primarily on watercolor and acrylic painting. Robinson still serves as his mentor, and the two sometimes work together. Hai Soe served as Robinson's interpreter to the Karen Christian church for a presentation of Robinson's large painting "Biblical Truths."
"He sort of adopted me as an American dad," Robinson says, "He continues to be my student, but he really helps me more than I help him."
"He is a good communicator, and he expresses himself quietly and humbly, but boldly," Rex says of Hai Soe and his art. "He has a very special ability do commissions – which are gifts of love people give themselves, particularly of people and animals."
"I like to paint people, but it's the hardest part of art," Hai Soe admits. Painting while working full-time is a challenge, and though he says he would like to someday have his own studio or even become an art teacher, he does not currently sell or display his art online consistently. He says he continues to watch YouTube to learn new techniques and loves to visit museums to study art when he travels.
For Hai Soe, art remains a way for him to observe life and express himself. He says that art is therapeutic for both the artist and the viewer. Above all, it's a way to communicate without words. With art, he says, "I can talk with different people and cultures. Of all the ways of communicating, this is the fastest, freshest, and most fun!"