Whether you're always a bridesmaid, or it's your turn to be the blushing bride, I've put together a little style guide to help you pick an outfit for the upcoming festivities. The rule in fashion nowadays is that there are no more rules. White after Labor Day is encouraged, and people wear open toed shoes all year long. (Guilty.) There is one rule that I will always follow, and that is the rule that it is never appropriate to wear white to a wedding that isn't your own. Let's keep that one alive, ladies! Save the white for your special day—it will make it that much more special being the only one in white. The only exception to this rule is if you are in a wedding and the dress the bride picked for you is white. If this is the case, that is so very Kate Middleton of your bride and I'm all for it.
There are endless options out there for wedding guests, and that makes weddings one of my favorite events to shop for. Maxis and rompers and lace, oh my! It's time to talk wedding wear.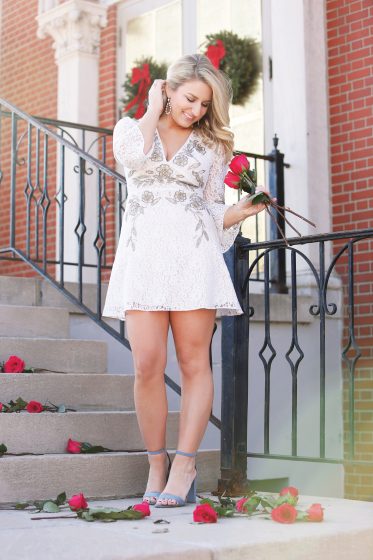 Let's start with a look for you brides out there. This white lace dress with embellishments is such a special
garment, and something you will look back and remember wearing during this exciting time in your life. One question I hear people ask a lot is about whether or not it's expected to wear white to your parties and showers, and I would say it isn't mandatory at all. It is your day. Do what feels right to you! Personally, I would want to because I think it would make you feel like you're celebrating all the more as the "Mrs. to be," but everyone is different.
This dress looks so bridal, and could be worn to any shower or party, and is even dressy enough for a rehearsal dinner. Although it has sleeves, it's pretty lightweight and could work for several seasons. It would be just as cute with tights, but I chose to pair it with these "something blue" heels for a sentimental look. When I walked into Excursions we instantly agreed this had to be the dress. It screams bride!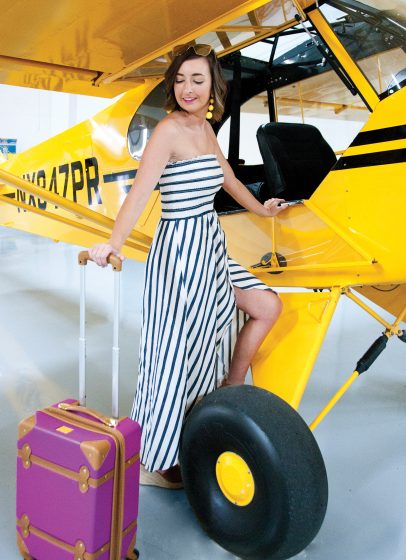 Speaking of brides, Maddy Baker from ConfettiCloset.com is modeling our honeymoon look from Bella Ragazza. Maddy recently got engaged, which made this shoot all the more fun to do. When it comes to vacationing, it's all about feeling easy and breezy, while looking coordinated and put together. This striped maxi dress is the perfect comfort piece for you honeymooners. It could be thrown on over a bathing suit, worn out on the town, out to lunch, date night, or when hopping on a plane to get to your destination. Even if you aren't a bride, this is a great spring/summer piece to have in your closet. It's so versatile, and brings style and comfort together for a look ideal for your honeymoon or next trip. Special thank you to Julie and Harold Cannon for letting us have a photo shoot with your beautiful planes—we had a ball!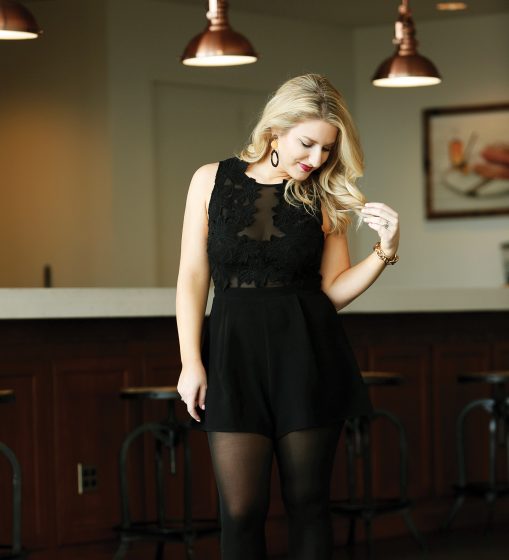 Okay bridesmaids, you know the drill. When it comes to bachelorette parties, most of them involve the bride wearing all white and the bridal party wearing black. Since I'm such a color lover, when it's time to pack for a weekend like this I'm in a panic calling my sister-in-law and girlfriends trying to find a little black something that's fitting for a party. I realize that I'm the exception—most women own oodles of black, and that's why this romper from Blush Boutique is definitely coming home with me! The lace detail on the front is so flirty and fun, and I love that it will work for different seasons—with tights as shown here, or with bare legs and heels, wedges, or sandals when it warms up. This romper is also ideal for wedding guests, too. I love wearing rompers and jumpsuits to weddings, because you feel more comfortable dancing and having fun when you can move and not feel constricted.
Best wishes and happy shopping to all the brides and bridesmaids out there! This is such a meaningful time in your life, so be sure and dress in something that is special and unique to you!