Sara Kathryn Fort, the professional organizer behind Neat Relief, is unable to remember a time she wasn't organizing. As a child, when she went to friends' houses, she remembers asking if she could clean their rooms and organize their closets — just for fun.
Fort never thought this could be her career, but then she had a friend who asked her a life changing question, "Why don't you do this for a job?"
At the time, Fort did not believe a job like hers existed, and she was right. But that still didn't stop her from quitting her full-time job, and jumping into the unknown world of organizing as a career — something she said was "maybe not the smartest," but something she wouldn't have done otherwise.
Fort's profession is self-made and, because of this, she is able to change the model as needed. She uses the term "organizational coach" to describe what she does, but even that description comes with layers.
"I teach people how to organize," Fort said. "Once it becomes more natural, they can become more organized. Organizing is difficult, but you can do it."
Fort said that every person and every job is unique, and that each consultation is an unearthing. She requires clients to have goals, and she even assigns homework for her clients.
"My goal is to make notes when I am with them, and work out a maintenance plan so they can do better on their own," Fort said.
She also teaches clients to become better — and faster — decision makers. She said that in time, clients get more confident in their own decision making.
"Where there was once a question mark, there is now a period," Fort said.
She begins each job by first talking to potential clients on the phone and listening to what they need and what they want to accomplish. Sometimes clients want a new system or containers, but Fort prefers to work with what they have.
In order to determine what each client needs, Fort uses the S.P.A.C.E. acronym, which stands for Sort, Purge, Arrange, Contain, and Evaluate.
"It's funny," Fort said. "There are all of these container stores, and contain is actually one of the last things (to be completed) when organizing. People want to contain and buy all of these containers — and don't feel organized."
Fort said that it is not people's fault they have acquired so much and feel burdened by all their possessions.
"It's a lot to deal with everything (people have acquired). Everything you own is taking up space in your head, as well," Fort said. "(Organizing is) not just about getting rid of stuff, it's loving what you have. I am trying to save people from their 'stuff.'"
One of Fort's greatest pleasures is in the days following a completed job and receiving a call, text or email from the client that starts with "You have no idea…"
Fort suggests those who are interested in self-organization begin with a quick list of an area to tidy and set an alarm for how long you want to work on just that area. She said that working in sections of a room is easiest.
"It (the disorganization) didn't happen in one day, and it won't get fixed in one day," Fort said. "It's going to be messy for a while, but decluttering saves time and money."
Fort has also created tips for gift giving and receiving that align with organization:
Know your audience. If the person enjoys experiences, surprise them with an event (e.g. tickets to a show, a night on the town, something to enjoy). If the person prefers physical items, buy them consumable goods (e.g. shower gel, lotion, vanity items or gift certificates).
For gift receiving, be clear about your policy on new items. It's ok to set boundaries and tell people if you prefer physical items or experiences. They will be happier to get something you desire.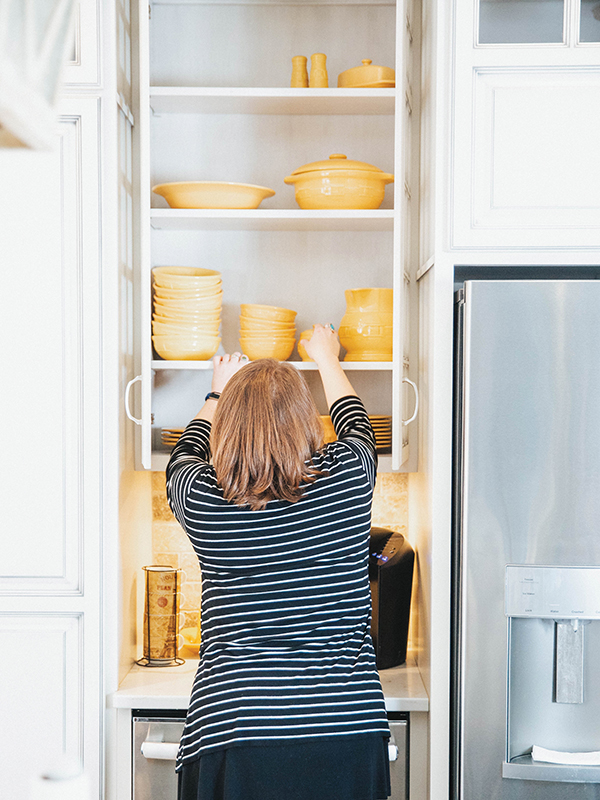 Fort's tips for decluttering:
Start small with a drawer. Fort said the junk drawer is a good place to start.
Take everything out of the drawer and wipe it out, if needed.
Hold each item, as Marie Kondo suggests, and be honest about what you want to keep.
If it is something that hasn't been used in the last 90 days, or if you have multiples, eliminate it from the drawer. For example, if you have 20 pens, decide if you really like the pen, and then dispose of or put it in a donate pile.
Group like items and then contain — use a drawer organizer, if needed.
When in doubt, donate, but also give yourself permission to throw away.
Fort recommends decluttering and organizing one day a week, room by room, and setting a time limit.
"It's a lot of evaluation, but the hard part is just getting started," Fort said.
She also recommends having a donation box in the house where items can be placed, and when it is filled, take it to the local donation centers.
"Make it a priority," Fort said. "And the progress needs to be celebrated."
Fort can be reached at [email protected] or 270-302-8769. She can also be followed on Instagram @neatrelief and on her Facebook (facebook.com/neatrelief).