Fans of Wasabi Express Japanese grill now have another reason to celebrate: Wasabi 54 is now open at 3238 Kidron Valley Way, Suite #5, behind Baskin Robbins near Wal-Mart. In its second week of business, Manager Brittany Lewis says crowds have been steady at both locations. "Opening our second location divided our regular crowd," Lewis said. "Our Frederica location is less crowded since our 54 location has been picking up, so now they're about equal." Which is exactly what the owners wanted. Even after the recent expansion, the original location (636 Southtown Blvd) was often so busy that people had to wait for a table. That's when they knew it was time for a second location.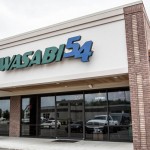 "Having this second location gives people an option," Lewis continued. "With two stores on either end of town, now people can go to whichever location is more convenient for them." People who live in the 54 corridor, Philpot, or Maceo area are especially happy about the new store. The hospital staff have been frequent customers at the new location as well – they've been picking up a lot of to-go orders since it's so much closer.
Lewis says the Wasabi 54 staff has noticed that a lot of the Frederica/Southtown regulars have come to the new store to check it out and been very happy with it. "It's the same food. Nothing has changed, except the décor is a little different." The only thing that has changed is the square footage, since the new store is about twice the size.
Wasabi 54 is open daily at 11am. A drive through window is also open for pick-up.