Quiet on the set!!! The side conversations immediately stopped, and people froze in place. Even the makeup artist in the next room, who was touching up a ghastly "flesh wound" stopped what she was doing.
Just a block off Frederica Street, a rental property was being used as a movie set for the filming of Volumes of Blood: Horror Stories, the latest project in the VOB franchise.
At the bottom of the steps, actor Moses J. Moseley sat, coolly waiting for his scenes, which were scheduled to start filming in 30 minutes. Best known for his work on the popular TV show The Walking Dead, among various other film and TV projects, Moseley wore a white Book & Music Exchange t-shirt, looking completely at home on set, making small talk with the crew in between takes.
It's hard to tell if director PJ Starks is more excited about the constant updates from the first Volumes of Blood anthology (through a distribution deal, VOB is now available for rent in Family Video stores across the US and Canada) or the much larger budget and additional sponsor support for VOB: Horror Stories. Production on this new film is set to wrap in August. The movie premiere has been scheduled for Saturday, October 29 at the Owensboro Convention Center.
While Moseley was in town filming over the weekend, Starks graciously scheduled time for Moses to talk with Owensboro Living about Volumes of Blood, his time on The Walking Dead, and life as a working actor.  With cameras rolling upstairs, Moses and I stepped into the garage where we could talk without disturbing the crew.
How did you get involved with Walking Dead?
I submitted my resume and photos to their casting department. Honestly, I didn't know anything about the show at all. I was just trying to get anything I could. They contacted me one day and asked if I'd like to be a part of it so I ended up shooting with them for three weeks. It was just a blessing, honestly.
I played one of Michonne's pet zombies in season 3. I was the jawless, armless zombie and I got to be on the cover of Entertainment Weekly with them too, so that was an amazing blessing to be a part of as well. It opened up other doors for me for sure.
What other doors?
Since then I've been in about eight other movies and several TV projects. Resurrection, Vampire Diaries. Some movies were Joyful Noise, Trouble with the Curve with Clint Eastwood and Justin Timberlake, and 42.
I just recently shot an episode of Homicide Hunters back in April. It will be out in the new season.
I have another movie I'm shooting in Ohio in September called Descending that has a couple big name actors in it. Lynn Lowry, who is a horror icon, and Alex Vincent, who was in Child's Play.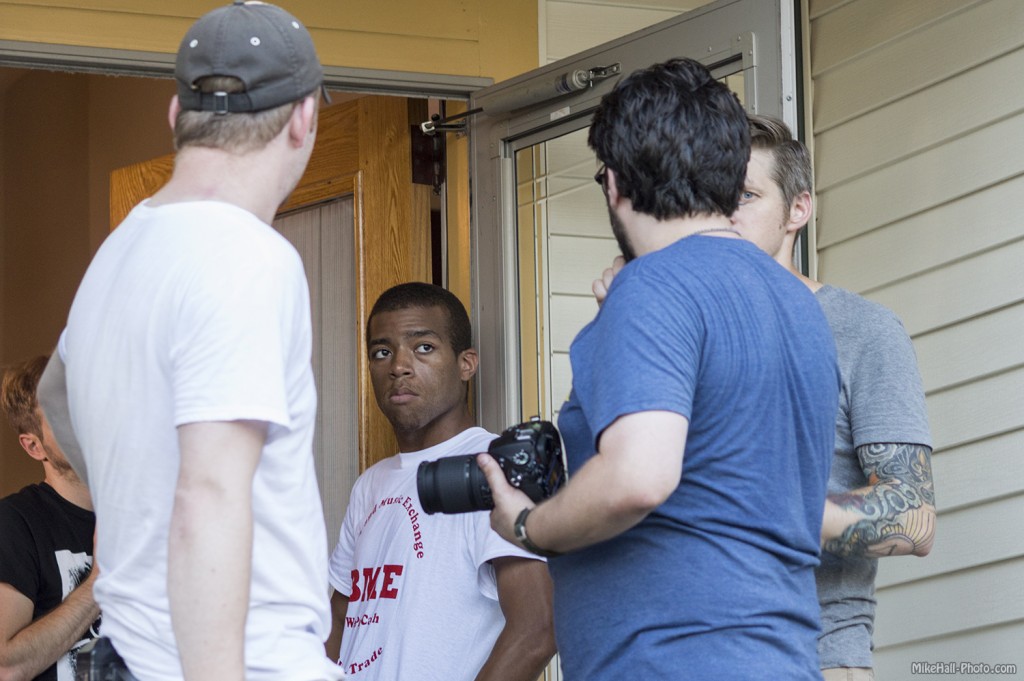 And I just wrapped on a feature movie called Kudzu Zombies. We shot that down in Mississippi and I wrapped with them a week ago right before I came here to Owensboro. It will be out next year. My character's name was Robbie. He's a troubled kid that has a lot of character development, which was really fun. I felt like that whole cast and crew bonded immediately. And I think that's something that's really going to interpret well on screen.
How did you get involved in the horror genre?
I grew up loving horror, but The Walking Dead is what started me in it. I was that weird kid that loved to see gore and loved being scared. I grew up watching Chucky and Freddie Krueger. Candy Man. I met Tony Todd at a convention and I said: "Dude, I grew up being afraid of you!" (Laughs.) I'd say it's a close tie between horror and action/adventure like Marvel and DC. If I could ever be in one of those movies, that would be the ultimate for me!
You've had a pretty diverse portfolio with TV, major motion pictures, and indie movies too.
As an actor, you want to have diversity with genres and roles in your portfolio because it makes you more castable and flexible. It helps you be able to take direction well too. I never want to limit myself, and I want to be really well-rounded.
It's been amazing. I started out doing extra work and background work, but I've been able to move up to secondary roles and leading roles. I've only been doing this for 4 ½ years, but it's been a blessing to have some of the opportunities I've had so far.
"This is the hardest job you could ever have, but when you truly love your craft, you don't want to do anything else." – Moses J. Moseley
Tell us about your training.
I'm taking classes right now in Atlanta, and I took some theater classes at Georgia State too. I've definitely improved as an actor through those classes. It's really opened my mind. When I was at Georgia State, I went to school for criminal justice. I was really overweight growing up, so I never considered acting as a serious avenue for me. But I took some theater classes just to see how it was. After I had lost the weight, when I was 20, then I started getting offers and taking it more seriously. I feel like I was lifted up and given a second chance at life after that.
You mentioned diversity and working your way up to leading roles. So why would you still come back and do an indie project like Volumes of Blood?
For me it's not always about the quantity, it's quality. And when you're dealing with people as awesome as PJ and his wife, Katrina, they make you happy to be in the production. And you never know how far it can go given the right circumstance. You have a lot of cult classics that are considered amazing by today standards that were actually made with small budgets but still were awesome because of the effort that was put into it. Of course, I'll take big budget movies, but at the same time, if it's people I know and can trust who have an amazing idea then I'll go with it. It makes you humble. And it makes you open up your mind as an actor.
Just because a movie has a million dollar budget doesn't mean it's going to be good. And just because you don't have a million dollar budget doesn't mean the movie can't be good and go on to do great things. That's what I mean when I say it's about the quality and the people you're working with.
Is there an advantage to still doing indie projects?
It gives me an insight to where I can be in these different scenarios and situations and not only grow as an actor but as a person. Like here, I get to meet these awesome people. I get to make some new connections, and I get to broaden my horizons a little bit. I enjoy watching how people grow in their craft too – to see where they might be a year from now, so to me, that's the beauty of it. It brightens my day to see people grow. I love it! Just seeing that is enough for me.
I travel a lot. I recently went to Germany for a conference, and now I'm here in Kentucky. Seeing the difference in people and seeing how we all relate to one another is the beauty of the world. It helps me to grow as a person, and it helps me improve my mind.
I love it, and I'm so anxious to shoot my scene here in a little bit. I can't wait to see how the finished production turns out because I saw the first movie and was really impressed.
How did you hear about Volumes Of Blood?
I met PJ at a convention. Then I saw him at ScareFest in Louisville last year. He was telling me about the movie and asked if I was interested in being a part of it. At first, I joked with him like 'I don't know man, can you afford me?' just to give him a hard time but then I said, 'Of course, I'll do it, man. You know I will!'  Because the idea was amazing. Then when he sent me the script – I loved it!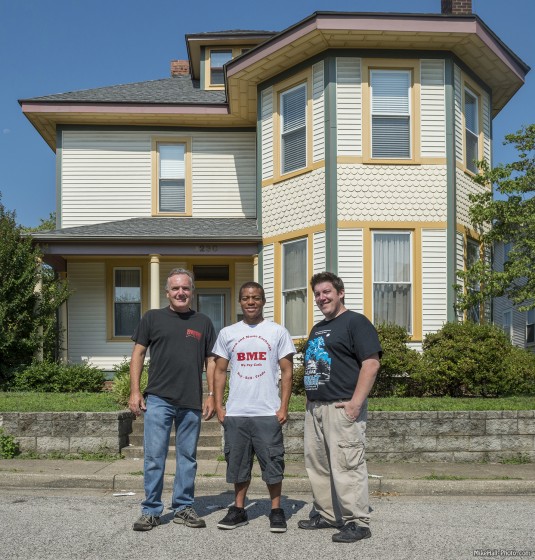 He offered me the part of Steven, and it fit me perfectly because I'm a lot like him. Stephen is a good person, but he's gonna be a jerk about it, and that's how I am to my brothers and when I'm hanging out with my friends. You know I care, but I'm gonna bust you too. (Laughs.) So it's easy for me to interpret Steven on screen. I think he's a good guy at heart. So just to be able to bring a part of myself on screen, that's what sold me on the part.
In your own journey, where was the jumping off point where you made the decision to go full-time and make a living as an actor?
When I got my first role while I was at Georgia State is when I knew I wanted to do it. But when I finally knew I could do it was the fifth TV show I was on – the fifth season of Vampire Diaries. Just being around everybody and meeting all those people was like a light went off in my head.
I've been able to do this consistently for the last two years without a day job. I was terrified to quit my warehouse job, but I had saved up, and I had projects lined up, so I just decided to go for it. That conversation I had with my boss when I told him I was moving to New York was terrifying, but it was the best decision I ever made.
It took a lot of special effects and makeup to make you a jawless, armless zombie on The Walking Dead. How does this set compare with a TV set or a major studio production set?Honestly, you'd be surprised how many sets use and do the same things. They may dress it up, but a lot of times it comes down to renting a house just like this one.
To me, it's all the same. When I see the set, I flip a switch and get into my character, no matter what the set is. It's all the same in that regard. The only thing that changes is the people. Right now all I see is a set.
When it's time to flip that switch, you get lost in the character, and that's when the best stuff comes out. Facial expressions and hand gestures that you wouldn't normally do.
So how do you do that? In thirty minutes you're going to portray Steven. So how do mentally prepare to become Steven?
It's like a switch in your head. When that camera comes on, I'm Steven. You go full force into it. There's not really an in between moment. When you get into that mental state, you can go fuller into the character. You think like that character. You talk like that character, and you become that character. It's hard to do, but after you've done it for a while, it becomes second nature to you.
Feature photo: Moses J. Mosely (far right) with cast and crew of Volumes of Blood: Horror Stories. Photos by Mike Hall. Used with permission.