It started out simple enough. WBKR's Dave Spencer asked St. Joseph Peace Mission for Children marketing director, Bradley DeHart, if the station could come help at Townsquare Media's next "give back" day.
Spencer said they were looking for some "hands-on" work to help with. When Brad suggested the Peace Mission could use a few rooms painted, someone called Ben Pearl who quickly agreed to supply the paint needed and the project snowballed from there. Brian Bumm jumped on board to suggest colors, carpet, and other interior design decisions. Royalty Cleaning agreed to deep clean the entire house. Friends of Sinners sent volunteers.
"Before we knew it, this basically turned into an extreme home makeover," DeHart told Owensboro Living from (Director) Paua Yevincy's office in the annex behind the home as volunteer workers buzzed around the entire property inside and out. "This has been amazing. They have truly turned this house into a home today."
Yevincy and DeHart said once donations started piling in, the project required weekly meetings for six weeks to coordinate all the details, culminating in one massive workday on September 18, 2017,  from 7am to 7pm.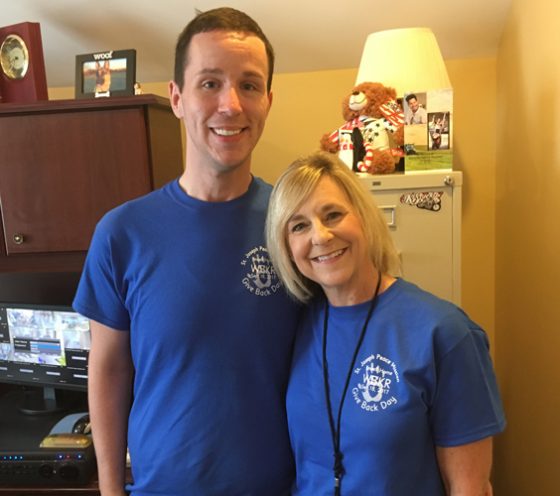 The plan called for work to begin as soon as the residents left for school. "We had work crews lined up in vans down the block this morning, and as soon as the last school bus pulled away, they got to work," Yevincy said. After school, while paint was still drying at the home and crews were putting on finishing touches, residents were treated to pizza by a local church and enjoyed movie passes donated by Malco Cinemas. When they returned to the Peace Mission Monday evening, the home had been completely transformed on the inside.
It was a much-needed improvement for the home, which serves as a crisis residence for 12 children. The home had not been updated in nearly 20 years. "I know this means so much to them. Seeing this really makes them feel appreciated and loved," Yevincy said.
DeHart sees potential beyond the workday, recalling a story relayed to him by one of the volunteers who mentioned to Bradley that they were once helped by a similar group of volunteers during a tough time when they were growing up. "Now these kids could be the next generation to give back like this when they get older."
The day included donations and volunteers provided by:
Townsquare Media/WBKR (facilitation and labor)
Ben Pearl Painting (paint donation, drywall repair, and painting supplies)
BPPI Flooring (donation and installation of new carpet)
Royalty Cleaning Services (pre/post cleaning)
Brian Bumm Interior Design (paint color and carpet selection)
Disaster Team of Owensboro (Dumpster)
Friends of Sinners (volunteer labor)
First Security Bank (new towels, magnetic boards, and bedding)
Independence Bank Loan Dept (board games and 4-square balls)
Isabel Ebelhare (donated Kitchen Aid range microwave)
L. Steve Castlen Realtors (Lowes Gift Card)
Wathen Pest Control (general spray)
Kathy Hudson State Farm (flat screen TV for living area)
Best Buy (donated TV for staff area)
Rosemary/Larry Conder (donated new kitchen table)
Chris Cail (provided large covered tent for outside)
Feta Pizza (provided lunch for 80 people)
Cabinet Door Guys of Fordsville (replacing damaged cabinet)
Greater Owensboro Chamber of Commerce (monetary donation)
Malco Cinema (movie tickets for kids)
Yellow Ambulance (labor and medic services)
ChickFilA (breakfast platters)
Tonya Kay Photography
Hank A Martin
Altogether, about 80 volunteers helped throughout the day.