For sisters Jeraldina Lopez and Idania Guarneros, making tacos is in their blood. "Our mom used to sell tacos for a living back in Mexico. That's how we survived," Lopez said.
For the past month, the sisters have been serving up authentic Mexican food out of their Tacos El Shaddai Almighty food truck. When Owensboro Living visited the food truck for lunch today, there was a steady stream of business and it wasn't even lunch hour yet.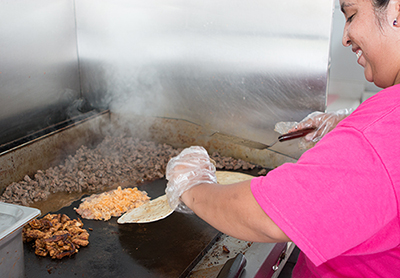 The sisters make their food fresh every day. This past weekend they sold out of everything at the Multicultural Festival and spent Monday restocking supplies. Typically, the truck stays in one spot for 15 days, then changes locations. But they also take the truck to festivals, events and other locations by request.
"Following them on Facebook is the best way find them," said Joan Berry, a returning customer who was standing in line right behind us. She came last week and brought salsa home for her husband to try. "It's heartwarming to know something small like this is making it big in Owensboro," she said.
"Their food's really good. And it fills you up," said Shaenna Wimsatt, who was picking up a lunch order that her mom called in. "My mom always uses the green sauce," she said. The green sauce is a tomatillo salsa with jalepenos, onions, cilantro and salt.
Right now, Tacos El Shaddai Almighty is parked at the Shell Station on Frederica next to ChickFilA. Find them on Facebook or call (270) 485-7788.