Lee Dengler, composer of hundreds of sacred music anthems, will be the featured composer for Settle Memorial United Methodist Church's "Living Composer Series", now in its fifth year.
Dengler will work with the Settle choir on four of his anthems Saturday, October 21, and conduct them for the church's two traditional services Sunday, October 22, 2017, at 8:30 and 11 am. in the church sanctuary.
Settle music director, Diane Earle, states, "This is a wonderful opportunity for our choir and congregation to get to know a living composer."
Violinist Colette Abel from Indianapolis will also perform on his anthems.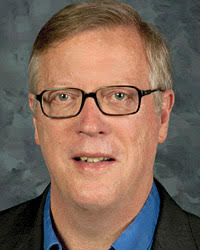 Lee Dengler received a Bachelor of Music and Master of Music degrees from West Chester University School of Music in West Chester, PA. He studied choral composition and arranging with Alice Parker at Westminster Choir College as well as in her home in New England.  Lee and his wife, Susan, live in Goshen, Indiana where they are Ministers of Music and Arts at College Mennonite Church. Lee composes a wide range of choral, vocal and piano works and has over 220 works published by most of the nation's major music publishers.
The public is invited to attend. For information, please contact Earle at 270-852-3617.