Secretary of the Kentucky Cabinet for Economic Development will address the crowd of business and community leaders at the Greater Owensboro Chamber of Commerce Rooster Booster Breakfast on Thursday, October 5, 2017. Gill is responsible for promoting the development and overall administration of executive policies designed to support and promote economic development within the Commonwealth of Kentucky.
As Secretary, Terry works extensively to coordinate business development activities and oversees the Cabinet's efforts to encourage job retention and creation through the recruitment of new industry to the state, the expansion of existing Kentucky operations and by promoting entrepreneurship and small business development.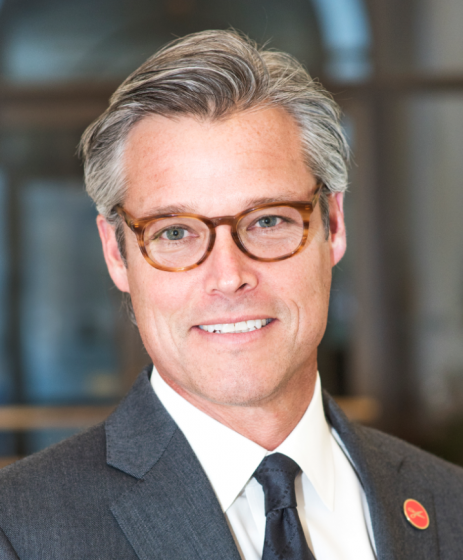 Before accepting the position of Secretary, Terry served as President of OneTouchPoint, a marketing services organization which provides Fortune 500 manufacturing, healthcare and consumer product companies with a full range of brand support and marketing services. As the President of the East division, he was responsible for growth and M&A initiatives resulting in creating the largest privately held marketing services and technical printing company in the region.
Prior to OneTouchPoint, Terry served as the Vice President of EnterpriseCorp, the arm of Greater Louisville Inc. that is focused on increasing the number high potential early and second stage companies headquartered in the Louisville and Southern Indiana market. Before coming to EnterpriseCorp, he served as President and Chief Executive Officer of FetterGroup, where under his leadership, the company developed innovative software platforms now in use by Fortune 50 healthcare companies.
Terry holds a BA degree in Marketing with a Minor in Economics from the University of Kentucky. He serves the community through various charitable organizations and civic involvement. Terry resides in Louisville with his wife Elizabeth. They have two adult children.
"Secretary Gill brings a wealth of experience both from the private sector and from the economic development arena. Having the opportunity to show Secretary Gill all that is happening in Owensboro is an honor," said Candance Castlen Brake, President & CEO of the Chamber. "Our community is open for business and has the small city amenities that can attract and retain talent. We jump on the opportunity to demonstrate this to statewide decision-makers such as Secretary Gill."
The monthly breakfast event is sponsored by Owensboro Health. Limited seating requires an RSVP, and the cost to attend is $12 for Chamber members with reservations, $15 for Chamber members without reservations and $20 for non-Chamber members. Make your reservation and pay online at chamber.owensboro.com/calendar/ or call the Chamber at 270-926-1860 by noon on Wednesday, October 4.
The monthly Greater Owensboro Chamber of Commerce Rooster Booster program will start at 7:30 am at the Owensboro Convention Center.
Founded in 1913, the Greater Owensboro Chamber of Commerce has worked for a century to provide valuable benefits and services to member business and individuals. Today, with a membership base of close to 1000, the Chamber is a critical partner in community and business development initiatives, serving as the center of business advocacy for the Greater Owensboro region.