Former SEC Champion and Auburn University basketball captain, Daymeon Fishback will address the crowd of business and community leaders next Thursday, November 3. Fishback, a Bowling Green, Kentucky native won the Gatorade National Player of the Year Award and Mr. Kentucky basketball in 1996. He joined ESPN in 2014 as an SEC Network game analyst.
Kentucky Wesleyan College is the title sponsor for November Rooster Booster.
Fishback has over a decade of experience in the financial services industry. He also has worked as a color analyst for Fox Sports South and the Auburn Network. Prior to that, he was drafted in the NBA Development League and also played basketball professionally in Italy, Yugoslavia and France.
He graduated in 2000 with an international business degree from Auburn University. There he was named to the SEC All-Academic Team, while averaging 7.2 points per game and ranked fifth all-time in 3-pointers made throughout his four-year career on the basketball team.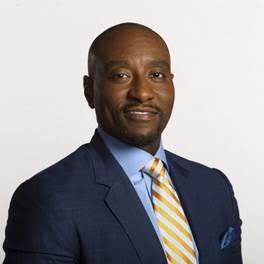 "Daymeon Fishback is one of those rare persons who found a way to combine all of his talents, passions, and convictions to shape a unique and interesting life. He has brought great distinction to his home state of Kentucky in the financial and sports worlds. Daymeon and I became friends when he was a senior at Greenwood High School in Bowling Green, and it was clear even then that he was destined for great success," said Bart Darrell, President of Kentucky Wesleyan College.
"We are so grateful to Kentucky Wesleyan College for sponsoring this event and to President Bart Darrell for connecting our community with such a dynamic and nationally recognized speaker," said Candance Castlen Brake, President & CEO of the Chamber. "President Darrell continues to shape Greater Owensboro as a leader of Kentucky Wesleyan College, which is such an important piece of our regional economic growth and talent retention strategy. And his leadership on our board and as a Chamber member has been invaluable."
The monthly breakfast event is sponsored by Kentucky Wesleyan College. Limited seating requires an RSVP, and the cost to attend is $12 for Chamber members, $20 for non-Chamber members. Make your reservation and pay online at chamber.owensboro.com/calendar/ or call the Chamber at 270-926-1860 by noon on Wednesday, November 2.
The monthly Greater Owensboro Chamber of Commerce Rooster Booster program will start at 7:30 am in Exhibit Hall 3 of the Owensboro Convention Center.
Founded in 1913, the Greater Owensboro Chamber of Commerce has worked for a century to provide valuable benefits and services to member business and individuals. Today, with a membership base of close to 1000, the Chamber is a critical partner in community and business development initiatives, serving as the center of business advocacy for the Greater Owensboro region.