Legend says that Emperor Nero played the fiddle while Rome was burning to the ground in the great fire of 64 AD. Whether that actually happened is debated among historians. Either way, the expression "fiddling while Rome burns" implies that someone is distracted by unimportant things while neglecting what should be a priority.
For a guy who has spent the last five years performing live speed painting shows across the country to the point of exhaustion, that story struck a chord for Aaron Kizer, which is why that Nero story serves as the inspiration behind his hometown show Friday night.
"I was killing myself out there but missing the important stuff, like home and my family," Kizer told Owensboro Living this morning.
Like driving to Chicago for a two-hour show, then leaving immediately for Atlanta, for example.
"I needed to take a break from all that to get back to why I enjoy painting in the first place," he continued.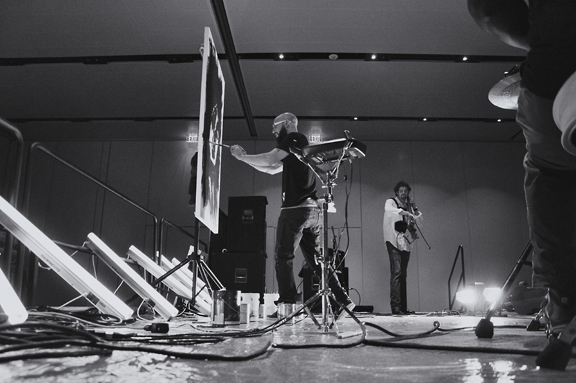 Now, after four months off from traveling and live shows, Aaron is back in action Friday night at the Owensboro Convention Center. Fiddle While Rome Burns will be Kizer's first live event after his self-prescribed sabbatical to get himself back into the mindset for painting, but there's also a deeper reason for the show.
"I'm realizing how important it is to do what you enjoy in life. So Friday night, I'm doing four of my favorite paintings. There really is no theme for this show; I'm just going to have fun with it and do it for the love of painting."
Shows in Owensboro, he says, are less stressful. "I feel more comfortable here because there's no pressure like there is for a corporate event."
Especially at the Owensboro Convention Center, which has served as Kizer's home court for his last several events in Owensboro.
Tickets for Fiddle While Rome Burns are available online or the night of the show, Friday, July 29, 2016, at the Convention Center, 501 West 2nd Street.
Doors open at 7:30 p.m.
As of Tuesday, online ticket sales have already exceeded previous shows, so there should be a nice crowd Friday night. "I'm beyond appreciative of the people in Owensboro. The last show was jam packed. It's still crazy to me that people actually show up to watch me paint. There aren't words that can even describe that feeling!"
For more information about Aaron and his work, visit kizerarts.com.