Owensboro Living was just informed that Santa will be "training" for his big night with a special appearance at the Reindeer Run 5K through downtown Owensboro on Saturday, Dec. 5.
The Reindeer Run 5K is a family-friendly event for men, women and children of our community.  The run/walk will start at 9 a.m. from McConnell Plaza behind the Hampton Inn Waterfront.
Proceeds will benefit Care Net of Owensboro. "We were looking for another fundraiser that would be a fun, family event," says Director of Development, Sherrianne Leach.  When organizers looked at the 5K calendar, they noticed there weren't any races in December. "We decided to go for it, and the Reindeer Run 5K was born," Leach said.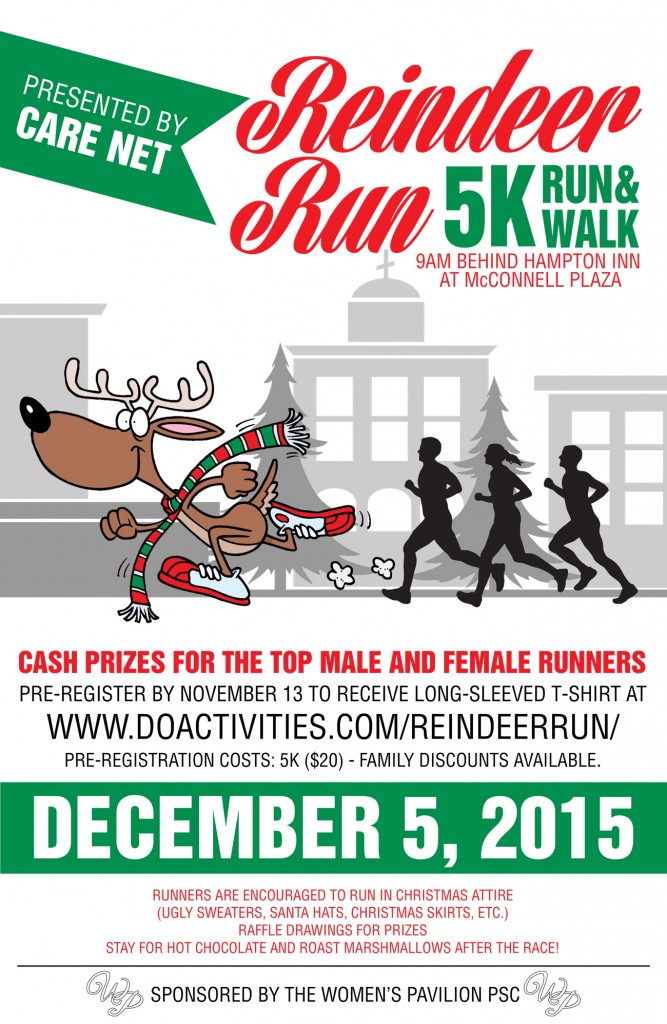 Owensboro Area Running and Walking Club will be timing the event.  Cash prizes will be awarded for top male & female in the following categories: 10 & under, 11-19, 20-29, 30-39, 40-49, 50-59, 60-69, and 70 & above. There will also be raffle drawings for participants, including Mini Ipads, gift cards, kids' prizes, and much more!
Christmas attire, ugly sweaters and Santa hats are greatly encouraged! Prizes will be awarded to the adult and child with the most creative outfit.
When the run/walk is over, enjoy complimentary hot chocolate brewed by Overflow Cafe and roast marshmallows around the fire pits!
The Women's Pavilion PSC is the title sponsor. American Patriot Getaways, Dixie Reserve, Independence Bank, Legends, Overflow Café, Bobby and Hannah Goebel, RL Wilson Masonry Inc, Settle Group of Hilliard Lyons, Snap On – Langton Tools Dist, Katie V. Gunterman – Shelter Insurance, Robert A. Edge – Ky Farm Bureau and Fairway Realty are also sponsors.
Santa will be available for pictures following the race.
Registration Details:
T-shirts are guaranteed with $20 pre-registration until November 13. All registrations after November 13 will be $25 and are not guaranteed a t-shirt.
Family discounts available (must include one adult in family pre-registration package).
Register online doactivities.com/reindeerrun/
Online registration cut off is December 3.
Day of registration will be held between 8-9 a.m. in the Hampton Inn lobby.
Packets can be picked up at Legends on Friday, Dec. 4 between 4-7 p.m.