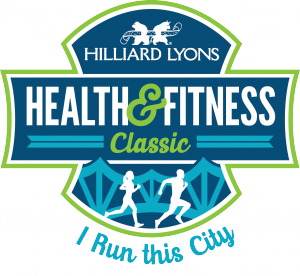 Hilliard Lyons is sponsoring the Health & Fitness Classic on Saturday, September 6th. Events include a Bridge Walk, 5K race, Kids Races, Zumba, and more.
[tw-divider]5K RACE[/tw-divider]
The 5K race starts promptly at 9 a.m.  The start line is behind the Hampton Inn and Suites located on Veterans Blvd. Racers will run out across the bridge and back. The course will be west to Locust Street, then south to 3rd, then East to J.R. Miller Blvd., will go North across the bridge. After entering bridge runners will turn around in approximately one mile, (1.6 kilometers), in a gravel turn around. On return leg, runners will exit the Gary Clover bridge and go West on 3rd Street, runners will turn North on Allen Street, then West on Veterans Blvd to the Finish line located behind the Hampton Inn and Suites.  The finish line is the original starting point. To register: http://www.hilliardlyons5kbridgerun.com
[tw-divider]CITY OF OWENSBORO BRIDGE WALK[/tw-divider]
Take a casual stroll across the Glover Cary Bridge. Walk, Run, or just hang out. The bridge will be closed from 10 a.m. to 2 p.m. Bring the family or your entire staff. All are welcomed to enjoy the unique experience.
[tw-divider]OWENSBORO HEALTH SPONSORED ACTIVITIES[/tw-divider]
Join the Owensboro Healthpark instructors for a variety of fun 'mini' classes on the riverfront. Classes are set to take place from 7:30 a.m. to 11:30 a.m. Stop in before or after participating in the race to try Body Flow, Zumba, Boot Camps and more. All ages are welcome. Sessions are scheduled to begin every 30 minutes.
[tw-divider]YMCA KIDS FUN RUN & FITNESS CHALLENGE[/tw-divider]
The event will begin at 10 a.m. directly after the 5k race. The Owensboro Family YMCA will be sponsoring K-5th grade fitness events. 100 yard dash for K and 1st graders. 200 yard dash for 2nd grade thru 5th grade levels. Same grade levels will exercise with each other. Other exercises, such as push-ups and curls will be explained to the kids.
[tw-divider]EAST BRIDGE ART FESTIVAL[/tw-divider]
Enjoy a healthy walk with the family and view the 4th annual East Bridge Arts Festival. More than 50 artists from around the region showcase their amazing talents while dozens of teams turn the streets around the festival into a canvas of chalk art.
[tw-divider][/tw-divider]
Sponsored by:
Hilliard Lyons
City of Owensboro
Legends of Owensboro
The Owensboro Family YMCA
The Healthpark of Owensboro
The Owensboro Area Runners & Walkers Club
Owensboro-Daviess County Convention and Visitors Bureau