The Owensboro Symphony Orchestra announced today that Troy Quinn has been selected as its next Music Director and Conductor. The Symphony signed Quinn to a three-year contract, commencing on June 1, 2017. He will conduct his first concert as the new Music Director and Conductor on August 5, 2017 at the Symphony's annual US Bank "Concert on the Lawn." He becomes the fifth Music Director and Conductor in the symphony's 52-year-history.
"This truly is a milestone in the life of our symphony," said Jay Wethington, Vice Chair of the Governing Board of Directors and Search Committee Chair. "This is a culmination of more than two-years of hard work by the Board's Search Committee and I am grateful to each of them for their time and engaged work. I am equally appreciative of the input we have received throughout the process from the entire community. It too has been an invaluable part of this exciting process."
"It's an extraordinary joy and great honor to be named Music Director of the Owensboro Symphony," said Troy Quinn. " I am thrilled to embark on this new journey together with the Symphony and excited for the endless possibilities that exist for creating great music in Owensboro. I am so impressed with the quality of the orchestra as well as the supportive and vibrant arts community; we are going to do special things together."
Quinn, who is the current Music Director and Conductor of the Juneau Symphony and Founder of the Ocean State Symphony Orchestra of Rhode Island, has been lauded for his energetic and riveting conducting, and is quickly establishing himself as one of his generation's most versatile young artists. He is known for his inspiring performances, imaginative programming, and passion for developing new audiences. In addition, Quinn is a fervent advocate for music education, both in the concert hall and in the classroom.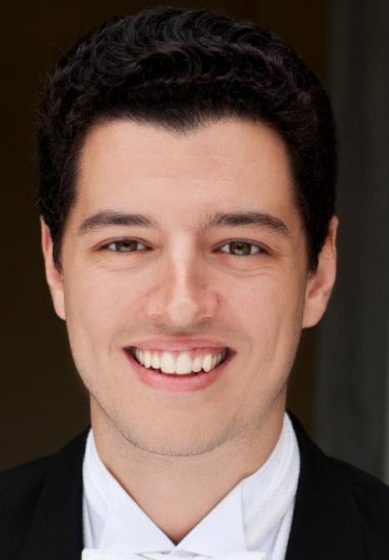 Quinn's career includes guest conducting appearances with orchestras around the United States and Europe, including the Rochester Philharmonic Orchestra, Boise Symphony Orchestra, and London Soloists Chamber Orchestra. His frequent collaborations with leading regional orchestras and other institutions have given him the opportunity to work with musicians of the highest caliber while simultaneously garnering praise for his musical dynamism and versatility. Quinn has also performed at many of the world's major music centers and at such famed venues as the Hollywood Bowl and Walt Disney Concert Hall.
Equally at home in the pops and commercial world, Quinn has performed and recorded with some of the most popular artists of our time, including The Rolling Stones, Barry Manilow, Josh Groban, and Jennifer Hudson. As an accomplished vocalist, Quinn has also collaborated with such prominent conductors as Helmuth Rilling, Carl St. Clair, and Dan Saunders of the Metropolitan Opera. In addition to his concert work, Quinn has worked extensively in the television and recording industry, having made appearances on such hit T.V. shows as Fox's GLEE, NBC's The Voice, and The Tonight Show with Jay Leno.
A native of Connecticut, Quinn received a bachelor of arts degree from Providence College where he was the recipient of the Leo S. Cannon award for superior achievement in the music field. He went on to earn his masters degree with honors from the Manhattan School of Music, studying conducting with David Gilbert and voice with highly acclaimed Metropolitan Opera singer Mark Oswald. He completed his doctorate in conducting at the University of Southern California's Thornton School of Music, where he was awarded the outstanding doctoral graduate of his class. He has been mentored by such renowned conductors as Leon Botstein, Neil Varon, and Benjamin Zander.
"The Board appointed Search Committee conducted a very comprehensive search for our new artistic leader" said Dan Griffith, CEO of the symphony. "In addition to extensive interviews by the committee, the audience, musicians, donors, sponsors, and volunteers provided feedback on each candidates performance this past season. Naturally we were looking for a person who had excellent conducting skills and strong artistic leadership capacity, but in addition the committee wanted someone whom they believed would work comfortably with a wide array of partners and stakeholders. Troy Quinn rose to the top of the list as being that person and I am thrilled to have the opportunity to work with Troy. I believe there are exciting years ahead for the Symphony under his leadership."
2017-18 SEASON
For the 2017-18 season, Quinn will conduct all rehearsals and performances: Subscription Series concerts in Cannon Hall, Chamber Concerts at area churches and US Bank Concert on the Lawn. The 2017-18 Subscription Series concerts being planned by Quinn will be formally announced to the public in June. Current Season Subscribers have until June 30 to renew their seats. Beginning on July 1 new subscribers will be able to choose their seats for the upcoming season. To purchase a Season Subscription call (270) 684-0661 extension 11 or go to TheOSO.com.
OFFICIAL SPONSOR OF THE MUSIC DIRECTOR AND CONDUCTOR
The two-year conductor search process was generously underwritten by Kentucky Legend®, a division of Specialty Foods Group, LLC. The Symphony is pleased to announce that Kentucky Legend® will continue its support during the 2017-18 season as the Official Sponsor of the Music Director and Conductor.
"Kentucky Legend believes in the community and the Owensboro Symphony Orchestra. We are pleased to play a part in welcoming Troy to Owensboro and we look forward to being an active corporate partner during his inaugural season," said Brooklyn Maple, Brand Manager for Kentucky Legend®.