On Saturday, July 29, 2017, the Kentucky Science Center will present the first annual Owensboro Youth Science Summit (YSS). This event serves to engage motivated teens in a day of Science, Technology, Engineering, and Math (STEM) programming and will be hosted by Brescia University (717 Frederica Street).
The goal for the day is that the students will leave the event inspired about a potential career in a STEM field, while also gaining a deeper understanding of particular careers that meet their interests and strengths.
"We intend to pack the day with hands-on labs and conversations with various professional," said Andrew Spence, Manager of Public Programs and Events at the Kentucky Science Center.
Spence anticipates an audience of 30-60 Middle and High School students (separated by age into tracks of 20 max) for this inaugural youth summit, but hopes "to grow this into a community-wide extravaganza next Summer."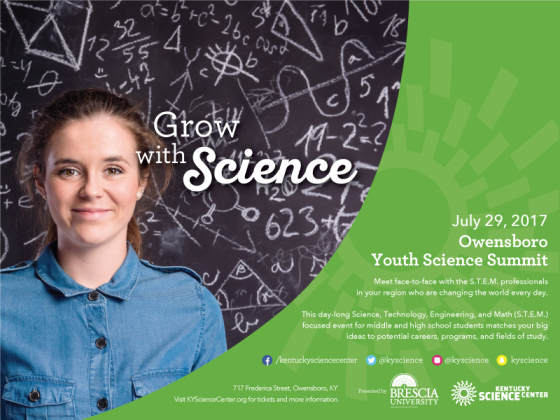 The registration fee of $25 includes all activities, morning snack, lunch, and a t-shirt.
Click here for ticket information.