A typical Friday night for Laurel Beaty is anything but typical. She's not relaxing on the couch after a long week at work. She's suiting up in her white and black stripes to take the field as a varsity back judge –under the lights, in front of a packed crowd, in the thick of it all, where you can really hear the shoulder pads and helmets crunch.
"Friday night football is so exciting," Beaty said. "The crowd is crazy. The lights are on. The band is playing. I love it! Especially this time of the year when the weather is getting cooler."
As a female referee, Beaty definitely causes some double-takes. She's the only female referee in our region. Laurel has been refereeing football for eight years. This is her fourth season on a Friday night varsity crew.
She runs the sidelines now, but make no mistake, this girl's got game. At Apollo, she was a three-sport athlete in soccer, basketball, and softball. She even has a state championship ring from the E-Gals '95 state championship softball team.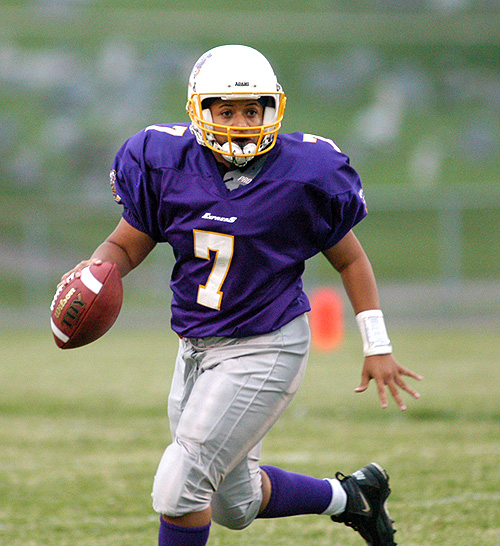 After college, she was a quarterback in the National Womens Football Association, a full pad football league, where she played two years for Nashville Dream and two years for Evansville Express.
Laurel started officiating while she was a student at Western Kentucky University, where she officiated flag football and intramural basketball. She's since been officiating basketball for 12 years. "I like sports and this is a way to stay involved in the game. Especially now that I've gotten older, " she said. The supplemental income is nice, too.
During football season, Laurel is on a "Friday night crew" with four other referees:  Greg Mitchell, Alan Russell, Lorhn Frazier, and Matt Thomas. Their crew is one of six crews in the Big 8 Officials Association, which covers an area similar to the 3rd Region in basketball: Owensboro/Daviess County, Ohio County, McLean County, Butler County, Union County, Hancock County, Edmonton County and Hopkinsville Central. Each week the crew gets assigned a Friday night game somewhere in the Big 8.
"The inner-city games are the most exciting," Laurel said, with a smile. "Both sides are full. The fans are totally into it. It's a lot of fun."
On game nights, the crew usually arrives an hour early and takes the field about thirty minutes before the game. They use that time to check the game balls, walk the field, and generally make sure everything is game ready.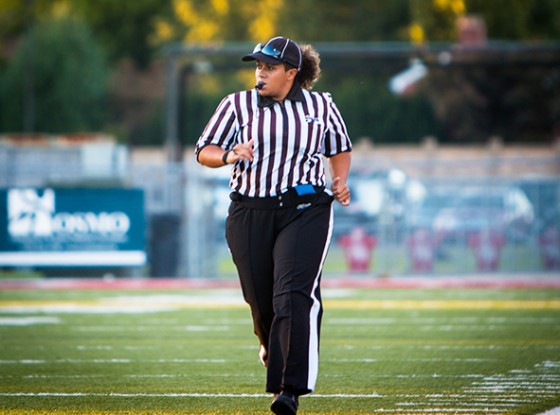 As back judge, Laurel's role is to stand beyond the deepest back, monitor the play clock, and watch for pass interference. "I run a lot. Last weekend at Henderson, the score was 49-0 at the half. I ran A LOT that night," she said.
There have been highs and lows for this crew. They were called on to ref two playoff games last season, which was a great honor. On the down side, Laurel was assigned the OHS vs Apollo game the night of her mother's funeral. "It was emotional for me. I didn't know if I could do it. But then I thought she would be probably be mad at me if I didn't do it," Beaty remembered.
"These guys have really become like brothers to me.  They supported me throughout my mom's sickness," Laurel said. In fact, they even stepped up and served as pall bearers for Laurel's mother's funeral.  She paused, "That's what I like best about being an official."
Dealing with coaches, Beaty says, is a matter of mutual respect. "They respect us and we respect them." They don't always agree, of course. But for the most part, the coaches in the Big 8 get along fine with Laurel's crew.
"I respect Laurel for the professionalism she exhibits on the job," says OHS Assistant Coach Todd Houston, who graduated high school with Laurel. "She is a role model to numerous other women who have the desire to get involved in the game of football."