Amanda Miller, a teacher at Owensboro Day Treatment, has been named Outstanding Teacher of State Agency Children. According to the Kentucky Educational Collaborative for State Agency Children (KECSAC), the award is presented to "educators who have demonstrated exemplary performance as a teacher, displaying such qualities as innovation, imagination, creativity and the ability to inspire as indicated by clearly recognized achievements perceived by members of the profession and others knowledgeable of the candidate."
Miller will be recognized during an awards luncheon at noon Tuesday, July 25, at the Embassy Suites in Lexington as part of the 16th annual Alternative Strategies for Educating Students At-Risk Summit.
"Ms. Miller exemplifies the kind of commitment and care KECSAC seeks to foster among educators and staff in the programs that teach some of Kentucky's most vulnerable youth," said KECSAC director Dr. Ronnie Nolan.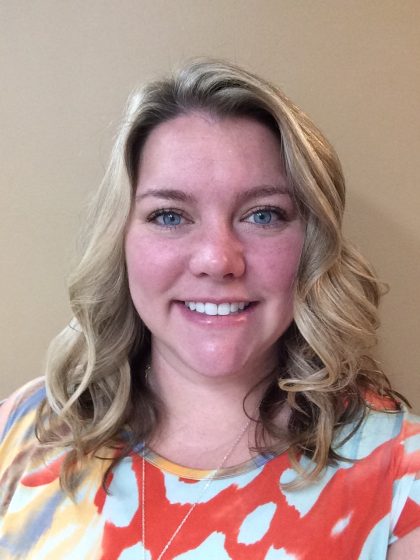 "It is an honor to be chosen for such a major award," Miller said. "Working with at-risk kids has become my personal mission. I am driven to ensure that our most vulnerable students receive a quality education. Their past mistakes don't have to be their future. Many of these students have fallen behind in the public schools, and I work to help those students catch up with their peers. The opportunities I have been given by Daviess County Public Schools and the Department of Juvenile Justice have enabled me to make a difference for our at-risk population."
ODT head teacher Angela Austin said Miller is most deserving of the honor, praising Miller's dedication to implementing technology as a teaching and learning resource. "Mrs. Miller has worked tirelessly to ensure that the most at-risk students in a secure setting have received a quality education by increasing the use of technology in her classes," Austin said. "This technology has given our students an opportunity to experience blended learning and an education much like their public school counterparts."
Austin also praised Miller's commitment to professional development as part of her goal in becoming the best possible teacher for her students, while also supporting colleagues across the state. "Through her involvement with the Center for Educational Excellence in Alternative Setting, Mrs. Miller has served in leadership positions on the local, state and national levels by providing training to teachers in both public and Department of Juvenile Justice facilities," Austin said. "After being a participant at the Unjammed Technology Camp sponsored by the Center for Educational Excellence in Alternative Settings, Mrs. Miller was invited to become an ambassador the following year to teach other teachers. She presented on the state level at the Title I Transition Summit in Louisville as well as the At-Risk Conference at Eastern Kentucky University in Richmond. Locally, Mrs. Miller has led sessions at the DCPS Teach Meet to offer training in using 'Break Outs,' a very engaging way to teach students. She has help to take education at Owensboro Treatment Center to another level."
"KECSAC is a statewide collaborative that works with state agencies, school districts and local programs to ensure that state agency children receive a quality education comparable to all Kentucky students. 'State agency children' are those in the custody or supervision of the Commonwealth and are being served in programs funded and/or operated by the Department of Juvenile Justice, the Department for Community Based Services or the Department for Behavioral Health, Development and Intellectual Disabilities." – www.kecsac.eku.edu