Troy Quinn's Inaugural Season as Music Director of the Owensboro Symphony begins on October 28, 2017, at 7:00 p.m. with the orchestra's 53rd Season Opening Night. Quinn's selection as the Symphony's fifth Music Director was announced in June following an extensive
Quinn's selection as the Symphony's fifth Music Director was announced in June following an extensive two-year search that netted more than 145 applicants from around the world. "We are tremendously excited about Opening Night and the beginning of this new era for the Owensboro Symphony. Troy brings renewed excitement to the symphony, both on and off the stage" said Dan Griffith, Symphony CEO. "We are thrilled to have someone with his energy level and caliber of talent leading our organization into the future." The Opening Night concert is sponsored by Wyatt, Tarrant & Combs, LLP.
Opening Night Program
The 2017-18 Season Opening Night performance will begin with a rousing performance of Dmitri Shostakovich's exuberant 1954 Festive Overture. Following the overture, Quinn and the Symphony will be joined on stage for a colorful return engagement by violinist Rachel Barton Pine, generously sponsored by UBS, Altaf Merchant. Pine will perform with the Symphony one of the greatest violin concertos of the Romantic era and memorable for its lush and moving melodies and harmonies, Henryk Wieniawski's Violin Concerto No. 2 in D minor. Following a brief intermission Troy Quinn and the Symphony will return to the stage for a performance of Johannes Brahms final but most rapturous, Fourth Symphony.
"Naturally we're always thrilled to welcome to Owensboro world-class artists like violinist Rachel Barton Pine, but I'm especially excited to showcase my incredible colleagues that make up the Owensboro Symphony as we share the stage together on Opening Night," said Troy Quinn.  "It's going to be an epic evening of music. I hope everyone will join us for the concert and join us for a toast at the After-Party."
Opening Night After Party
Concert attendees are invited to share a toast with Troy Quinn to celebrate the beginning of his Inaugural Season! The Opening Night – After Party, generously sponsored by Kentucky Legend will take place Immediately following the performance in the Owensboro Convention Center East Ballroom, 501 West Second Street. Dance the night away at the Opening Night After-Party!
Behind the Music with Troy Quinn
New This Season! Concert attendees are invited to join Troy Quinn in Cannon Hall from 6:15 to 6:40 p.m. for a special pre-concert conversation about the evening's performance.  This program, included with the ticket price, is designed to enhance the concert experience, providing insights into the music and music-makers performing on the program – go Behind the Music with Troy Quinn!
Ticket Information
GET THE  BEST DEAL! Season tickets for the Symphony's entire five concert Subscription Series are on sale until October 28, 2017. They are priced at $199.00, $152.00 and $82.00, depending on seat location. First time Season Subscribers receive 50% OFF the Season Ticket price. (i.e. $199.00 = $99.50, $152.00 = $76.00) Season tickets can be purchased by calling 270-684-0661 between 9:00 a.m. and 4:30 p.m.
Single tickets for the Opening Night performance are $45.00 and $35.00 and are available by phone at 270-687-2787 and at the RiverPark Center Box Office at 101 Daviess Street, Owensboro. Student tickets are $10.50 a piece.
About the Guest Artist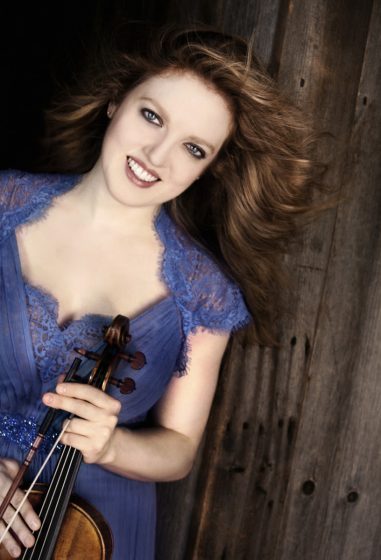 In 1996 after performing with the Owensboro Symphony during its Thirtieth Anniversary season, Rachel Barton Pine was busy off the stage as a torchbearer in the Olympic torch relay through Chicago. Following the relay she was invited to perform the National Anthem at the Democratic Convention. Pine tours worldwide as a soloist with prestigious orchestras, has an active recording career, and has run The Rachel Barton Pine Foundation since 2001 which provides services and funding to promote classical music education and performances.
Pine was born in Chicago, and began playing the violin at age 3 after being inspired by the example of older girls playing at her church. She debuted with the Chicago String Ensemble at age 7, and with the Chicago Symphony at age 10. Her passion for violin compelled her to practice 4 or 5 hours a day as a second grader, prompting her elementary school principal to encourage her parents to begin home schooling, which allowed her to focus on her music, practicing 8 hours a day. At age 14, she began taking paid gigs playing at weddings and in orchestras, which allowed her to contribute significantly to her family's income as they experienced financial difficulties. Explaining how she managed, she says, "I put on a lot of makeup and pretended I was older than I was."
She attained notable success in a number of violin competitions, including winning the 1992 Johann Sebastian Bach International Competition in Leipzig, Germany. She also earned 2nd prizes in the József Szigeti Violin Competition (1992) and the International Fritz Kreisler Competition (1992), as well as awards from the Montreal International Musical Competition (1991), the Paganini Competition (1993), and the Queen Elisabeth Music Competition (1993).
She has been featured on CBS Sunday Morning, PBS Newshour, appeared five times on NBC's Today Show, and frequently has been a guest on nationally-syndicated radio shows including Performance Today, A Prairie Home Companion, as well as National Public Radio's All Things Considered.