The Kentucky Transportation Cabinet plans to place a new traffic signal in flashing mode on KY 54/Leitchfield Road in Owensboro at the intersection with Hayden Road and Alvey Park Drive on Thursday, October 19, 2017.
This new traffic signal on KY 54 near the 3 mile marker will be placed in flashing mode to allow motorists to become familiar with the location.  Once paving is completed along KY 54/Leitchfield Road in this area a date will be announced for it to be fully activated.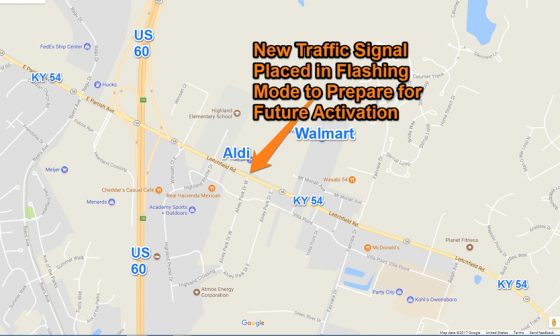 This new traffic signal is to assist with traffic flow at what will be the entrance to the new Gateway Commons Development along Hayden Road between KY 54 and KY 603/Pleasant Valley Road.
KYTC will provide timely notice when the signal is ready to go into full operation.
Timely traffic advisories for the 11 counties of KYTC Highway District 2 are available by going to facebook.com/kytcdistrict2. You do not have to be a Facebook member to access this page.