Hey kids! Visit ARTLAND and KALEIDOSCOPE KAVE for some summer fun at the Owensboro Museum of Fine Art.
Paint and draw in ARTLAND, the art museum's FREE art studio for kids open during regular museum hours. ARTLAND is an educational resource sponsored by Michael E. Horn Family Foundation that is an exciting new dimension in education. It is an interactive art studio created especially for children ages 4 to 10 designed to challenge and stimulate the imagination while allowing children to create works of art at their own pace.
ARTLAND features an art laboratory fully equipped with supplies and materials for making works of art and is complemented by child-sized easels and tables.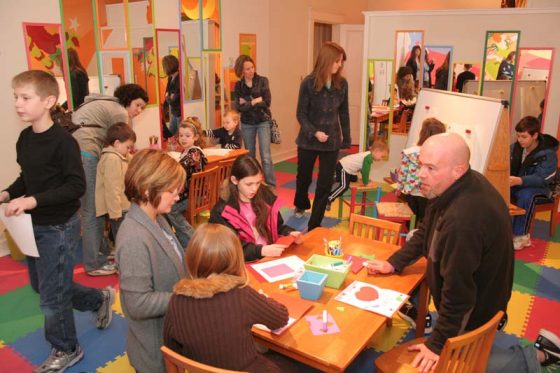 Visit the museum's interactive digital art gallery, KALEIDOSCOPE KAVE, for psychedelic fun and create art based upon that experience. A gallery sponsored by John and Riley Hess.
KALEIDOSCOPE KAVE is FREE and open during regular gallery hours:
Tuesday – Friday 12:00 – 5:00 p.m.
Saturday – Sunday 1:00 – 4:00 p.m.
The Owensboro Museum of Fine Art is FREE and OPEN TO ALL.
For more information visit us at omfa.us.