More than 100 works of art by contemporary regional artists celebrating the agrarian culture and the economic origins of the region are featured in an exhibition opening at the Owensboro Museum of Fine Art, Saturday, July 29.
The works of art in a wide variety of media by some of the region's most prominent artists interpret the theme WAY OF THE LAND: THE FARM STORY through images showcasing the farming industry past and present.
The exhibition presents farming as seen through the lens of art and is complemented by a collection of vintage farming equipment on loan from area farmers and collectors. Featured at the 9th Street entrance to the museum is a 1925 International Harvester McCormick-Deering tractor pulling a two bottom mouldboard plow that was used on farms just across the Glover Cary Bridge in southern Indiana.
Immediately inside the Atrium Sculpture Court is a diorama composed of a mid-19th century turning plow in a field surrounded by wildlife. The wildlife feature includes a deer, turkey, groundhog and red fox on loan from Smith Wildlife Artistry, a Calhoun, KY., taxidermy studio operated by Velma Smith.
The opening reception scheduled from 6:30 to 8:30 p.m. will include music by the local Bluegrass band, Kings Highway and "farm fresh" Kentucky cuisine. The exhibition and reception are sponsored by Owensboro Health Regional Hospital, Ann Murphy Kincheloe, Joanne Fore-Masters and Mark and Jackie Scholl.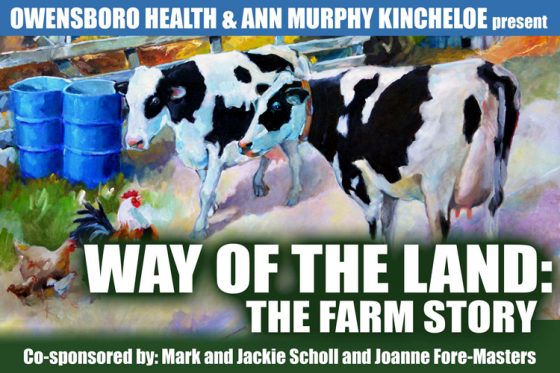 Each of the twenty-seven artists from Kentucky and surrounding states are represented by multiple entries in the exhibition and a highlight will be a purchase for the museum's Permanent Collection. The Ann Murphy Kincheloe Purchase Award is intended to commemorate the spirit of the exhibition's theme and honor the City of Owensboro's bicentennial year.
Artists include some of Kentucky's leading painters, weavers and sculptors:
Gary Akers, Union;
Jim Cantrell, Bardstown;
Ellen Glasgow and Dobree Adams, Frankfort;
Bob Lockhart, and Lynn Dunbar, Louisville;
Sheldon Tapley, Danville
and Marianne McDonald and Phylis Alvic, Lexington.
Returning to exhibit in Owensboro for the first time since winning first place in the museum's 1979 national competition, the MID AMERICA BIENNIAL is Bill Whorral, Shoals, IN. Other Indiana artists include:
Kazhia Kolb, St. Meinrad;
Dianne Overmeyer, Wakarusa and Diane Ubelhor-Wunderlich, Newburgh.
Also included are Cincinnati painter, Pamela Folsom and Jay Paul Bell, DeKalb, IL.
A large contingent of Owensboro area artists include:
Ann Brunner,
Todd Derr,
Iris Gentry,
Bill Kolok,
Katie Lowing,
Rhonda Mc Enroe,
Joe Overby,
Vicky Parrish,
Enid Roach,
David Stratton,
Rex Robinson
and former Owensboroans Jan Frazier and William T. Williams.
Other lenders to the exhibition are the City of Owensboro Municipal Collection; Owensboro Health Regional Hospital, Ruth Steele Reed, Dennis Hutchinson, Gary Pruden, Tony Williams and Wendell Miller.
Special educational events scheduled in conjunction with the exhibition include the construction of A BARN RAISIN', a public sculpture created in Ryan Park during the Owensboro Grain Company Free Summer Art Camp. BARNS AND THINGS, an exhibition of children's art completed during the camp is featured in the WAYMOND O. MORRIS YOUNG AT ART GALLERY.
A special reception for the young artists is scheduled Sunday afternoon, July 30 at 2 p.m. The event will feature refreshments, a tour of the barn and comments by the participants.
The exhibition will continue through October 22 during regular museum hours noon to 5 p.m. Tuesday through Friday and 1 to 4 p.m. Saturday and Sunday.
There is no admission fee, however donations of $3.00 for adults and $2.00 for children are encouraged.  For more information visit the museum website at omfa.us or phone 270 685-3181.