This summer a group of cyclists and support is traveling as a part of Pedal to Plant, a 12-week bicycle tour that is a fundraising campaign for Extreme Nazarene Missions.
Eight ambitious bike riders are undertaking the TransAmerica Trail, a 4,200 mile bike route established in 1976 for America's bicentennial, and has since been gaining popularity among cyclists. The trail goes through Oregon, Idaho, Montana, Wyoming, Colorado, Kansas, Missouri, Illinois, Kentucky, and Virginia, along mostly rural, two-lane highways. Pedal to Plant begins in Astoria, OR on May 29th and ends in Yorktown, VA on August 15th. The riders will be biking an average of 60 miles a day.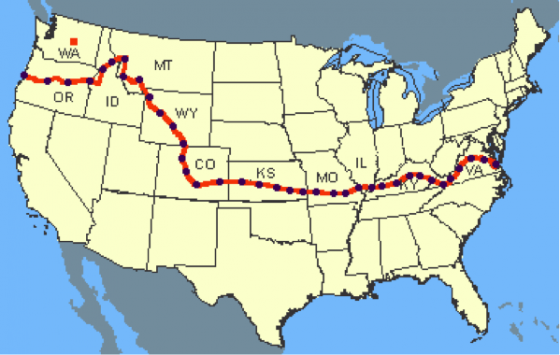 Some people bike the TransAmerica Trail just to say that they did it, to disconnect from everything else in the world except their bike, or just for the scenery.  Everyone on this ride will be unified by one cause – Pedal to Plant.
Extreme Nazarene Missions, a non-profit organization, is hosting Pedal to Plant to raise awareness, friends, and funds. The riders are pedaling to raise funds to plant six churches around the globe. Over the past ten years Extreme Nazarene has planted eighty-five churches in six different countries. The goal by the year 2020 is to plant twelve churches every year. Pedal to Plant is a way for Extreme Nazarene to create awareness and friends as they advance toward this goal. Additionally, they hope to raise $600,000 in order to plant churches in several different countries in 2018.
Pedal to Plant riders come in three forms: full riders, who are riding the entire route; leg riders, who join in for a segment of the ride depending on availability and ability to travel; and shadow riders, who ride from home but log their miles as a way to participate in Pedal to Plant.
Along the route, the Pedal to Plant team will stop to host rally services on Sundays and during the week. These rallies will include prayer, music with a traveling worship band, a short message, and more information about Extreme Nazarene and Pedal to Plant, including partnership opportunities.
Pedal To Plant will be in Owensboro, Thursday, July 27, 2017, at Owensboro First Church of the Nazarene, 3400 Lewis Lane.
The rally begins at 7:00 PM. All are welcome!