There's a method to the madness behind WBKR's new morning show, "The Morning Drive on 92.5."
Chad (Benefield) and Angel (Welsh), or "Changel" as they've been tagged in Hollywood couple style, hope to bring some much-needed laughter and light-heartedness to the hustle and bustle of morning routines and commutes.
But that's not to say they don't also hit on some serious subjects. As a wife and mother of five kids between the ages of 13 years and 10 months old, Angel has plenty of material to pull from her own life experience. And she's not afraid to share personal struggles and "real life" stuff amidst the playfulness. "That's one thing my husband, Joe, and I talked about when I applied for this job. I knew he had to be supportive of that because in order to be 'real' I wanted to be open and honest on air with real life stuff."
So far feedback has been incredible and the show is finding its rhythm.
Maybe their on-air rapport can best be understood by going back to the moment they first met; back in 2002, at the Miss Daviess County Pageant, where Chad served as host of ceremonies. As outgoing Miss Daviess County 2001, Angel was handing her crown to the winner during her farewell speech, which turned out to be a pretty emotional moment for Angel. The girls on stage were crying. People in the audience were crying. But apparently, Chad kept looking at his watch. "It was like the Gettysburg address!" Chad remembers. "She walked back and forth that stage for like six minutes solid." As Angel remembers it, when she gave the mic back to Chad, he sassed, "Well good Lord, honey! You could have walked to Towne Square Mall and back with that farewell address!"
That moment began their friendship and pretty much defines their entire working relationship. Over the years, they've bumped into each other at many community functions, especially Christmas Wish. So when the morning show co-host opened up, Angel seemed like a natural fit opposite Chad.
WBKR is well-known for their community involvement and support, which is why Chad says Angel is a perfect fit for the station. "She's so community-minded, just like I am, so between the two of us it feels like we know this whole town. She gives us access to the whole community. All kinds of folks come in to be a part of the show, and we love that," Chad said. "Plus, she brings a mom's perspective to the show, which is neat."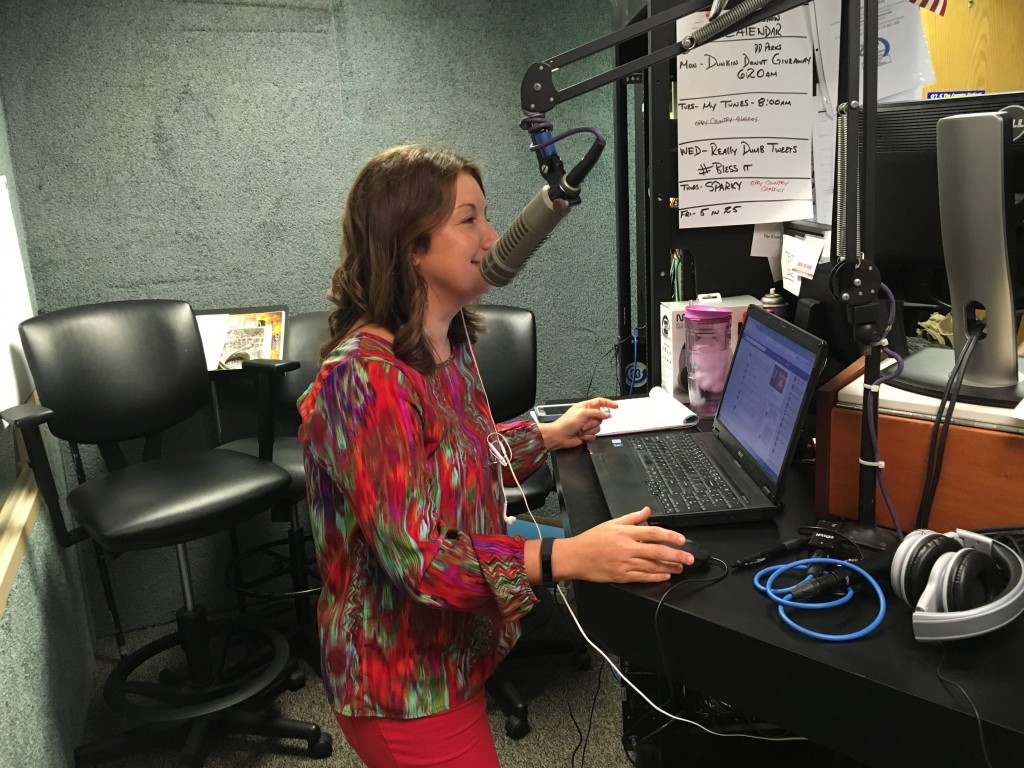 Angel is the first female morning show co-host since 2008 and only the fifth female morning show co-host in the station's history. (The others were Goldie Payne, Kelly G, and Jaclyn Graves. Cathy Carter was also a major part of the morning show during her run in the newsroom).
Long time listeners will recognize some old familiar friends like Jimmy Parrot, Miss Kizzy, Nashville Kat and News44 meteorologist Jackie Brown, who are staple personalities that regularly call in to the show. But rest assured, there are plenty of new features to keep things interesting. The most obvious change of pace is the new energy and spontaneity the Changel chemistry brings to the show.
"I love that we have a let's-just-go-with-it attitude," Angel says. "And I think approachability is huge. I want people to be able to relate to us. I want people to think of us like we're their next door neighbors and they can just come over and talk with us."
The hiring process lasted around eight weeks of interviews. During that time, Angel tried her hand at writing sample blogs, got a crash course in digital media, met with a marketing specialist, and ended with a two-day on-air audition.
Even so, Benefield says it came down to having the right combination. Fortunately, Angel's previous jobs were very detail-oriented and community-driven, which carried over nicely into her new position at WBKR. "We hire personality. I didn't have radio experience when I started and neither did Jaclyn (Graves). I can teach the radio stuff, but I wanted someone who had personality."
This job allows me to continue to serve the community, but on a different level. – Angel Welsh
Each show begins with a pre-planning meeting and brainstorming session. They consider local happenings, national holidays, cultural trends, and other discussion topics. Stuff that gets people laughing.
It's an early shift. Chad and Angel get to the station around 5 am for their 6 am show. For the next four hours, they banter back and forth, welcome and interview in-studio guests, run through each of their segments, and constantly monitor social media. The rest of the day is spent doing behind-the-scenes work and planning for the next show.
With changes in technology and cultural trends, Radio personalities are no longer just faceless voices behind a microphone. Today's radio DJ is part host, part journalist, and part social media wizard. WBKR has made it a point to be very active on social media with a very popular Facebook and Twitter presence. Everybody at the station is involved in generating content for the website through blogs, videos, contests, giveaways, and local news pieces posted daily.
Tune in to The Morning Drive on 92.5 from 6-10 am, Monday through Friday, or follow their antics on Facebook and Twitter.