Brescia University welcomes alumni Pat Yates '90 as the featured speaker for the "Return to the Arch" Alumni Speaker Series on Thursday, October 27th at 7:00 pm at Taylor Lecture Hall.
Yates is the President and Owner of Happy Feet, a company that makes slippers that often feature sports teams' logos, television and movie characters and other recognizable designs.
Pat has been featured on ABC's Shark Tank and Happy Feet have made appearances several television shows including Late Night with Jimmy Fallon, The Tonight Show with Jay Leno, The Late Show with David Letterman, The Wendy Williams Show, Good Morning America and The Today Show.
The company was founded in 1996 as a mall cart program, which quickly expanded throughout the US, England, Canada and Spain. Yates purchased the company in 2002, expanding to hundreds of malls in the US. The product line began with only a handful of styles in standard colors and has since added animal slippers, NCAA slippers, NBA slippers, NFL slippers and now a DreamWorks slippers and plush toy line.
Over the years, Happy Feet slippers has gained celebrity endorsements and has been featured on many other television shows, including The Bachelorette and Sean Saves the World.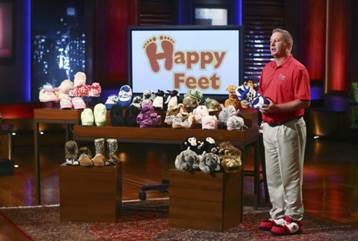 In 2014, Yates had the opportunity to pitch Happy Feet to the Sharks on ABC's Shark Tank. He successfully secured a deal with Robert Herjavec, which led to a lot of publicity for the company.
Recently, Happy Feet secured a deal with DreamWorks Animation, signing on to produce plush toys and slippers for a number of DreamWorks properties, including: Shrek, Kung Fu Panda, Madagascar and How to Train Your Dragon.
These new products are now available and are the highest quality slippers and plush that Happy Feet has produced to date.
Yates graduated from Brescia College in 1990 with a Bachelor's degree in Business Administration. He is married to wife Sandy, who is also a Brescia alum from the Class of 1989. They have three children, Nathan (24) who resides in Charlotte, North Carolina, Jordan (21) who is a junior at Western Kentucky University and Dylan (16) who is a junior at North Oldham High School.
For more information regarding Homecoming festivities or to register for events, visit brescia.edu/homecoming or contact Alexxis Ross-Logan at 270-686-2101 or [email protected]