Unless your a friend or family of a MOD Pizza team member, Tuesday, Feb 14, 2017, will be your first chance to get MOD Pizza.
MOD stands for "made on demand." Director of Operations, Craig Hanson, says MOD invented the concept of made-to-order pizza. Customers choose their size and pick their toppings as a team member makes the pizza right in front of them, which then only takes two-and-a-half minutes for MOD's "superfast" ovens to cook.
The idea of fast, casual pizza is to bring friends and family together in an atmosphere where they can spend time together enjoying pizza made exactly the way they want it.
Even the simple menu is made for speed. MOD doesn't charge per topping; they charge by size. And there are only the options: a 6″ mini pizza or salad, an 11″ thin crust pizza or salad, and a "mega" double crust pizza or family-sized salad. Fresh dough is pressed in the store and sauce is made in-house every day. There are nine classic pizza options or the "build your own" option with around 42 toppings to choose from.
At the time of this posting, there was still one more inspection before a grand opening day could be announced. But Tuesday is "Bridge Fund Day," a special promotion preceding the official grand opening at each location where items are discounted 50% during limited hours. Proceeds from Bridge Fund Day go toward building the Bridge Fund for that particular store, which is a special fund set aside to help team members should they fall on hard times. "MOD is focused on team members," Hanson explained, as team members were being trained in the kitchen Friday afternoon.
To celebrate Bridge Fund Day in Owensboro, and to prepare for the grand opening, MOD will first open to the public on Tuesday for lunch and supper from 11 a.m. – 1 p.m. and 5 p.m. –  8 p.m.
MOD Pizza started in 2008 in Seattle, Washington, and has grown to over 200 stores nationwide with another four in the United Kingdom. The Owensboro location is the fifth in the tri-state area, but Hanson says another 10 will be open in the region by the end of the year.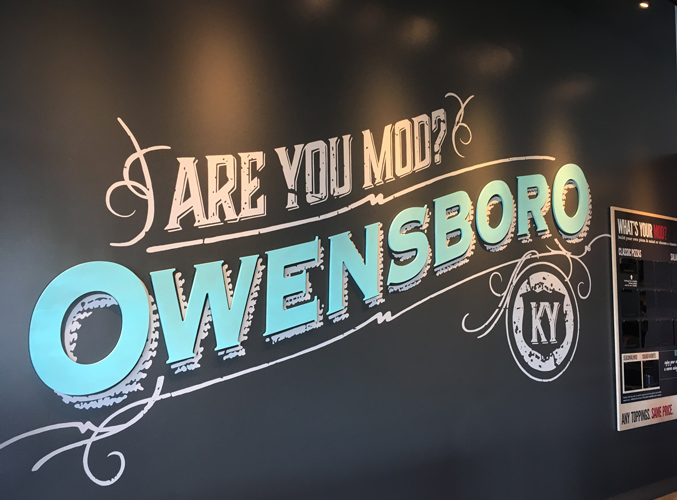 "Quite frankly, we came to Owensboro because of the community," Hanson said. "We thought Owensboro was a great area to bring some different innovation in pizza. Along with providing 35 good-paying jobs."
Team members can expect to make $10-12. They're still hiring, especially for the day crew. If you're interested, you can apply at [email protected].
By the way, the giving back attitude at MOD doesn't end with team members. A portion of the proceeds from sales on grand opening day will be given to the Wendell Foster Center. Also, during the week of Thanksgiving, one dollar from each pizza sold will be donated to a local charity.
"Giving back to others leads to gratitude. When you're grateful, you feel better and people are healthier, that's why we give our team members three hours of paid time each month to volunteer in the community because we want our team members to give back to others," Hanson continued. "That's what MOD is about. It's innovation in pizza, but it's also innovation in a unique workplace and in turn that goes out to our guests."
MOD Pizza is located off Highway 54 at 2710 Hearland Crossing, Suite C.