The newly-hired team members and Meijer corporate officials gathered for the ribbon cutting celebration today had two words for the people of Owensboro:
"Let's shop!!!"
By the looks of it, Owensboro is ready to do just that; it was hard to find a parking spot at the supercenter, which opened it's doors today for a soft opening at 2951 Heartland Crossing Blvd, just south of Leitchfield Rd on Highway 54.
The Grand Opening Celebration will be Sunday, May 22. (See below.)
"We don't want to be just another big box store," said CEO, Hank Meijer, explaining that although Meijer is in the food business, they are also in the business of helping the community and putting food on the table for those who need a little extra help.
He then put action to those words as he and Store Director, Kelly Agler, presented a $25,000 check to the Goodfellows Club Foundation in recognition of Goodfellows 100th year. Those funds will be used to provide clothing for children in need.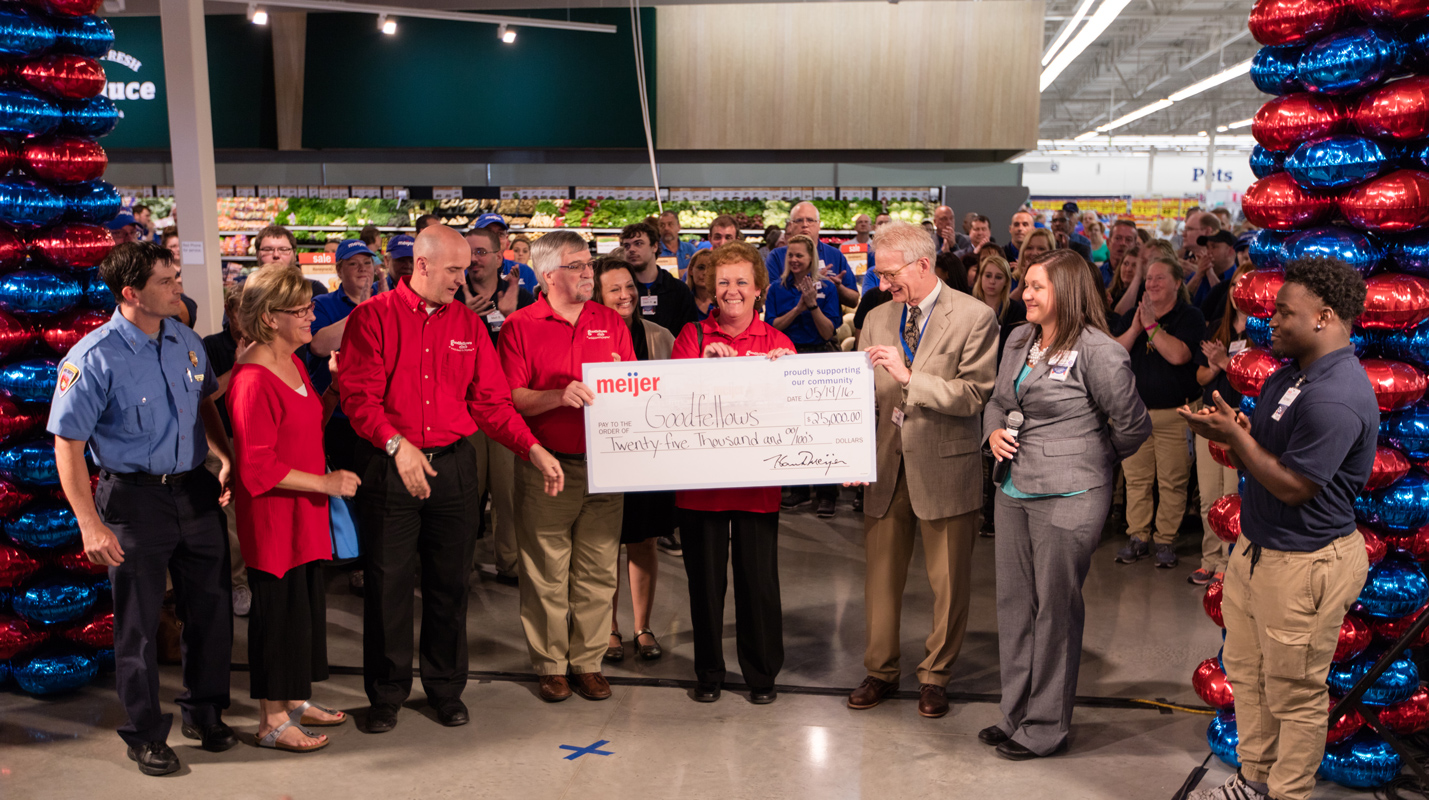 According to Agler, serving the community is the most exciting part of working at Meijer. "We're thrilled to be in this community. The people of Owensboro have been very welcoming."
She said the soft opening has been "fantastic" so far.
Another Meijer opened today in Evansville. The stores in Owensboro and Evansville are the first of nine stores to open nationwide in 2016.
In addition to traditional grocery and merchandise, Meijer is known for low prices, fresh produce delivered daily, and drive-thru pharmacies. The 24-hour gas station has already been open since April 19.
Did you know Meijer has a free prescription program? The prescription program includes generic antibiotics with a special focus on prescriptions most often filled for children, prenatal vitamins, and medications for those with diabetes and high cholesterol.
Grand Opening Celebration
On Sunday, May 22, 2016, the Grand Opening Celebration begins:
6 a.m. – the first 200 customers to enter the grocery side entrance will receive a Meijer "mystery gift card" worth $5, $10, or $20.
11 a.m. – 1 p.m. – Meijer gift card giveaways every 15 minutes, plus Meijer brand sampling stations.
Throughout the next several weeks, there will be product giveaways, activities, and a chance to win a $500 "Dreaming of Summer" shopping spree!
Summer Events
Friday, May 27: In-store "Community Picnic" with hotdogs, chips, and drinks
Saturday, May 28: In-store "Family Fun Day" with activities scheduled throughout the day
Saturday, June 11: Meijer Fan Fest
Saturday, June 18: Health & Wellness Event