Laura Murphy, a teach at Daviess County Middle School, was named Distinguised Teach of the Year by several local businesses who were looking for a way to give back and recognize outstanding community members.  Nominations were accepted online and the community was asked to nominate a current or retired teacher who has made a difference.  The attributes they were asked to consider for the nomination included: personal initiative, going above and beyond their obligation, innovative teaching methods, and encouraging students to achieve academic goals and success.
Laura received prizes from the following local businesses:
Pure Barre Owensboro – 1 month unlimited classes
Lance & Co Jewelers – $250 gift certificate
Oasis Tanning Salon – TBA
Excursions Owensboro – $100 gift certificate
Face Forward Salon and Spa – $125 gift certificate & basket valued at $72
Legends – $100 gift certificate
The Bakers Rack – Waterford crystal bowl (valued at $200)
Studio Slant – $100 gift certificate
Mirko Pasta Owensboro – Dinner for two
The Earle – $100 gift certificate
Welborn Floral and Events – Bouquet of Flowers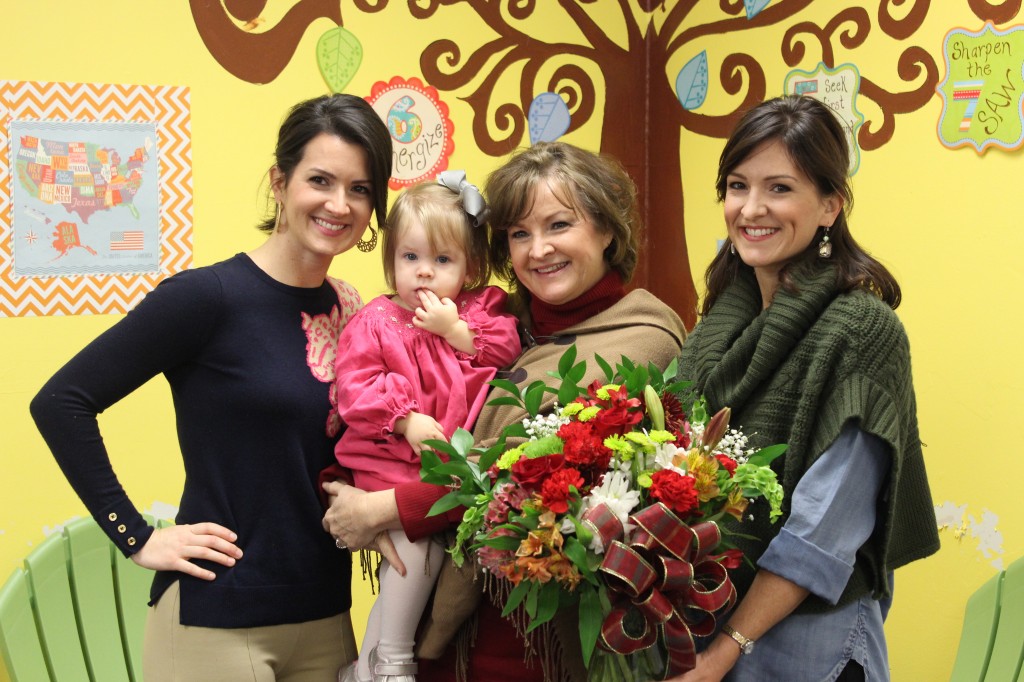 Additionally, Janie Montgomery, a teacher at Owensboro Middle School South, was named the runner-up and received gift certificates from Lance & Co. Jewelers, Pure Barre and one to get her hair, makeup and nails done.
[tw-divider]Submitted Nomination #1 for Laura[/tw-divider]
My wife Laura is one of the most selfless, compassionate, giving people I know. She is a tremendous woman of faith, that makes her students, the members of her dance team, and her family, feel as though they are always her first priority. Laura has been teaching eighth grade at Daviess County Middle School for the last six years. In that time, she has had two children, serves as the dance coach for the Pantherettes, sponsors students for the Kentucky Youth Assembly, the Kentucky United Nations Assembly, and the Fellowship of Christian Athletes, where she meets with middle school girls in weekly huddle groups. She has completed her Master's degree and is currently pursuing her Rank I certification through the University of the Cumberlands. Laura is the type of teacher every student wishes they could have, with her never-ending supply of energy and enthusiasm, as well as her desire to make every student feel that they are valuable and worthy of success. She corresponds with her students and members of her dance team through personal journal responses so that she is able to build relationships and address concerns in their lives. Her never-ending supply of energy extends past the classroom into her roles as wife, mother, church nursery scheduler, and middle school youth group leader. As if this wasn't enough, she is diligently training for her second half-marathon and writing a personal memoir in the hopes that her story may somehow inspire others. I nominated Laura for a number of reasons, because, as her husband, I have the privilege of being behind the scenes to witness all that she is capable of. With a plate as full as hers, I just wanted to inspire her the way she constantly inspires me. I want her to know that everything she does has value, and that every life she touches has meaning. Most of all, I want to see her get the recognition that she deserves for doing a job that she loves to do.
[tw-divider]Submitted Nomination #2 for Laura[/tw-divider]
Mrs. Laura Murphy is an English teacher at DCMS where teaching is her calling but impacting students lives is her passion. Mrs. Murphy encourages interactive learning through core curriculum but goes above the call of duty teaching life lessons that students will carry with them for years to come. Her passion for fitness provides a great role model to her students as she has set goals and put the work into achieving those goals, most recently being a half marathon. Laura is also the Pantherette coach pouring her spare time (she's also a mother of two) into young ladies looking for affirmations, positive coaching and encouragement. If anyone is deserving of this award it is Laura Murphy. Thank you for all you do for young teens in our community.
[tw-divider]Submitted Runner up Nomination for Janie Montgomery[/tw-divider]
Like most teachers, I feel my mother's hard work has gone unrecognized for far too long. She feels differently. Her satisfaction comes from a student's achievements, a parent's praise or a simple paper certificate announcing "Best Room Decor" (which, she has been undefeated for years.) It's that mentality that lets us know that this person was born to be an educator. She lost my father nearly 13 yrs ago to cancer and suffered from a heart attack just last month. She was back at work within days. Her job is not a job. It's a major part of her life and has been for 25 years and it doesn't just include educating. Enriching lives is a better fit. She found foster care for 3 of her former students that reached out for help, 1 of which was adopted at the of 17. She's selfless and committed to her students well beyond the time they spend in her classroom. It's her passion for making a difference that influenced my sister to become a teacher and it seems to only grow with time. She was eligible for retirement 2 yrs ago and while financially it doesn't seem like an option, she also told us that she's just not ready to give up her life's work. After 25 years she still has the same enthusiasm as she did with her first day of school back in 1990. She's an inspiration and nothing short of amazing. Best of all, I get to call her 'mom.' Good luck choosing the perfect candidate. In my opinion, that will be harder than what these teachers' have accomplished.
For the complete story, pick up a copy of the January issue of Owensboro Parent which will be available on January 2, 2015.