Owensboro Living compiled this exclusive list of Independence Day celebrations throughout Owensboro/Daviess county this weekend. With two days of celebrations and two nights of fireworks, there are plenty of options to choose from.
Here are your choices so you can make plans and get the most "bang" out of your July 4th weekend.
[tw-divider][/tw-divider]
Saturday, July 2nd

The City of Owensboro's "All-American 4th Of July Celebration"
The annual city celebration of our nation's birthday has traditionally been on July 4th.  For 2016, 4th of July Celebration will take place on Saturday, July 2nd.  This incredible celebration in downtown Owensboro will feature two stages of live music throughout the evening, a Kid's Bike Parade, and 4th Fest activities inside the Owensboro Convention Center.
The magnificent fireworks display, accompanied music by the Owensboro Symphony Orchestra, will kick-off at 9:15 pm to end the night's celebration over the Ohio River.
Program Schedule:
Kids Bike Parade                  5-5:30 pm
Electric Time Machine         5-6:45 pm (McConnell Plaza)
Owensboro Symphony        7-7:50 pm (McConnell Plaza)
Electric Time Machine         8-8:50 pm (McConnell Plaza)
Fireworks Display                 9:15 pm-9:35 pm
Closing song by OSO           9:35 pm-9:40 pm
"4th Fest" at Owensboro Convention Center
The Owensboro Convention Center in partnership with Specialty Foods Group presents the third annual 4th Fest on Saturday, July 2 beginning at 5:30pm at the Owensboro Convention Center.
The kids' zone activities in the exhibit halls are free and open to the public.  New activities, games, and inflatables will be featured this year, including the Stunt Jump.
Attendees can also enjoy delicious All-American food and drinks such as hamburgers, hot dogs, and more.  Also new this year, the 4th Fest Food Court will offer an assortment of summertime favorites that will be available for purchase.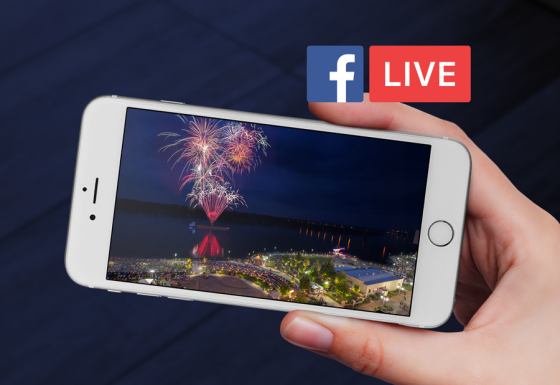 This year, we'll be going live on Facebook.  Follow our page and watch live if you can't make it downtown on Saturday.
For guests wanting a great seat to view the fireworks display, tickets in the Coca-Cola Red Zone may be purchased online here at OwensboroTickets.com, the Owensboro Convention Center Box Office, or charge by phone at 270.687.8800. Exhibit Hall Terrace seating is $7.50 per person. Non-alcohol and Alcohol sections are available. Pier VIP seating is $10 per person.  A Family 4 Pack featuring 4 hotdogs, 4 bags of chips, and 4 12 oz. drinks is also available for an additional $20.
Limited tables are also available in the Gulfstream Riverview Room located on the third floor of the Owensboro Convention Center. The Red Hot VIP area includes a table for 10, a buffet meal, 20 drink tickets, and balcony viewing of the fireworks display.  These are available as complete tables only for $450.  If interested in purchasing a Red Hot VIP table, please e-mail [email protected].
All-American Fourth of July at the RiverPark Center
The RiverPark Center will be open during the City of Owensboro's All-American Fourth of July Celebration on July 2nd. Bring a chair and enjoy the fireworks for FREE on the BB&T Patio Plaza, concessions will be available and bathrooms open to the public.
*Parking for the "All American 4th of July Celebration" and "4th Fest" is available on streets throughout downtown and several parking lots along 3rd Street in front of the Convention Center.
[tw-divider][/tw-divider]
Sunday, July 3rd
"Freedom Bash" at Diamond Lake Resort
Starts at 11am
4th of July Fireworks Celebration at 9 pm
Wear your red, white and blue and show your patriotism.  Enter our pie eating contest, golf cart, or whatever you're driving decorating contest!  Cruise the park in our Patriotic Parade and we will celebrate with our fabulous fireworks at 9 pm!!  Happy Independence Day to all !
Independence Bank Firework's Festival hosted by Daviess County Fiscal Court

Due to pending sever weather threats, this event has been postponed until Friday, September 2.
Independence Bank Freedom Day 5K
7:30 am – Kentucky Wesleyan College
5K Road Run/Walk celebrating the heritage of July 4th Independence Day.
FYI – your last chance to see fireworks will be at The Pearl Club. They are having their fireworks in August, but the date has not been confirmed at this point.
Photo by Adam Paris, AP Imagery. City's All American Fireworks 2015.