Too much growth is a good problem to have for a business. To remedy an overcrowding situation at Independence Bank's main branch (Independence Square) at 2425 Frederica Street, bank directors, employees, and city officials broke ground on a new operations center today at 2426 St. Ann, just behind the existing building.
Executive Vice President, Jacob Reid, says the new 32,000 sq. ft. building is designed to look like Independence Square. It will be three stories with a basement and will come equipped with movable walls to accommodate department growth. It will also have a skywalk above the bank teller drive-through attaching the operations center with Independence Square.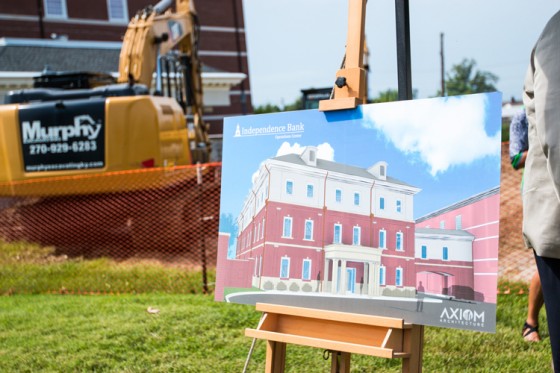 "We want to stay together as one big  building to keep with our family atmosphere," Reid explained at the ribbon cutting this afternoon.
Construction is set to begin in the next two weeks with the goal of being open by July 4, 2017.
"Independence Bank is poised for more growth," Reid said, noting additional ribbon cuttings tomorrow in Murray and next week in Mayfield.
According to a release by Independence Bank, the company had 135 employees in five counties in 2001. Today, Independence Bank has 341 employees in 12 counties across the Commonwealth. The new operations center will support the company's expansion in existing and new markets.
Mayor Ron Payne said the operations center will be a $5 million investment in the community, and praised Independence Bank's contributions to our city's growth. "We would not be where we are today without Independence Bank," Payne said. "As the fifth-largest bank in Kentucky, we are proud to have the company's headquarters right here in Owensboro."
"I'm always proud to see local family businesses be successful," said County Judge Executive, Al Mattingly. "Independence Bank is a local, community bank with community at its heart."
Greater Owensboro Chamber of Commerce Board Chair, Adam Hancock, recalled being an intern at Independence Bank in 1997. "It's exciting to see the growth Independence has experienced over the past 19 years," he said.