On Friday, November 3, 2017, Independence Bank received the Flag of Learning and Liberty award from the Kentucky School Public Relations Association during the annual state conference in Lexington, KY.
The award is named after the National School PR Association's flag and is given annually to a person, group, or corporation outside the education field who has made a significant contribution to public education in Kentucky.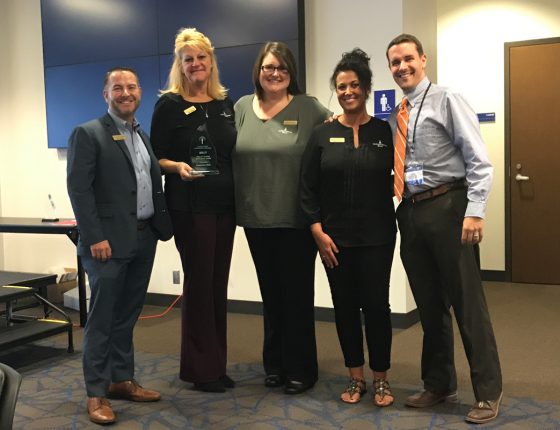 The Bank was nominated by Dave Kirk, Owensboro Public Schools Information Officer who boasted Independence Bank's dedication to the school system and community. "In our district alone, they've provided funding for little free libraries which house books so students have 24-7 access to reading. Bank employees also volunteer and read to our students in several schools. Independence also runs the backpack program which essentially is a food bag that goes home with students so they have something to eat at home. With a school system that's 68% free or reduced lunch, the backpack program is the only sure way that we know students are getting food when they're not with us at school. Their footprint stretches all across our state. I believe the Flag of Learning and Liberty award was made for them," said Kirk.
President of the KYSPRA, Wayne Walden said, "The importance and value of community partners like Independence Bank to the public schools of our commonwealth cannot be overestimated. From backpack programs that provide food to hungry students to scholarships given to graduating seniors who attend our nation's most competitive universities, Independence Bank is an encouraging, engaged partner every step of way as we together seek to maximize the potential of each student."
Independence Bank places significant value on education and fostering successful learning and continued education. Since 2001, the Bank has awarded over $800,000 in college scholarships in the communities it has locations. Our employees are our number one asset and we make it a priority to give back to our communities. We are honored to be the recipient of the Flag of Learning and Liberty Award and share it with each employee," stated Nick Oller, Senior Retail Lender.
Independence Bank is a local family-owned community bank with 24 locations throughout the Commonwealth that has given back over $1 million dollars last year to the communities it serves. To learn more about how Independence Bank gives back to their communities, visit 1776bank.com