The City of Owensboro will be hosting their annual Holiday Stroll on Saturday, December 3rd from 1-8pm in downtown Owensboro. The afternoon will include downtown shopping and dining, Christmas carolers, ice carving demonstrations, photos with Santa, and the Smothers Park tree lighting at 5pm.
Returning in 2016 is the second annual Elf on the Shelf Scavenger Hunt. Registration for the scavenger hunt will be at the Owensboro-Daviess County Convention and Visitors Bureau located at 215 E. 2nd Street beginning at 1:00pm. Participants will search for elves hidden throughout downtown Owensboro and the grand prize winner will receive a Nashville weekend getaway for two, including hotel for two nights and two tickets to "How the Grinch Stole Christmas!" Musical at the Grand Ole Opry House.
2nd Street from Daviess Street to Frederica Street will be closed from noon until approximately 8pm for the event.
Read the backstory of the Holiday Stroll here or see photos from the 2014 Holiday Stroll here.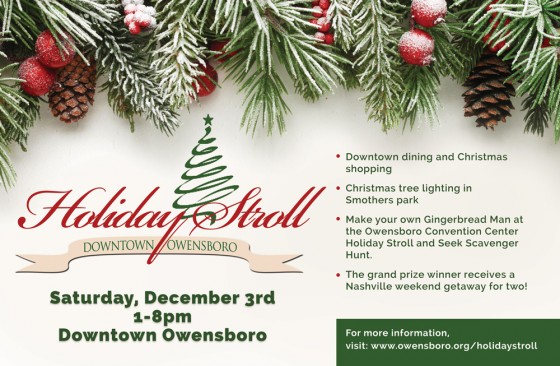 2016 Holiday Stroll festivities include: 
Downtown dining and Christmas shopping at local shops.
Christmas caroling and ice carving demonstrations. Jeremy Mattingly will be showcasing his amazing skills with ice carving demos of favorite holiday images at 1:30pm and 3:30pm on 2nd St. near the Judicial Center.
Owensboro Christmas Show will be going on at the Convention Center with Christmas crafts, gift shopping, and free product samples courtesy of SFG. Also gingerbread houses.
Photos with Santa
Christmas tree lighting in Smothers Park at 5pm with music by Kentucky Youth Chorale. The Daviess County Jazz Band will be performing from 4:30pm until the Christmas Tree lighting ceremony.
Owensboro Museum of Science and History – Free admission 4-8pm! US Bank providing free popcorn, carolers, and letter-writing to US Military. Owensboro Twisters balloons 5-7 pm, Owensboro Community Band 5 – 6pm. Plus live reindeer encounter! (FREE for members, $5 for non-members.) Prancer, a LIVE Reindeer, will be joining Santa and Mrs. Claus. Patrons will have their photos made by Gary Netzley (two 4″x6″ that will be available at the museum after Dec 9th.) Digital photos from cell phones will also be permitted.
First Security Bank

has transformed their lobby into a Candy Land-themed "Nutcracker Sweet Stop"  from 2-5pm to coincide with

Owensboro Dance Theatre's Nutcracker performance

at RiverPark Center 7pm.

Byron & Barclay – The Dulcimer Society will be performing from 4pm to 6pm.
The Creme – Story Time with Happy Daisy from 2pm to 3pm & special Holiday Lattes.
Studio 105 – Vocalist Renee Ekbladh will be performing from 5pm to 5:45pm and again from 7pm to 8pm, Baritone Saxophonist Sebastian Speranza will providing the entertainment in the 6pm to 6:45pm time slot.
Bella Regazza Boutique – Jenny Beth Willis will be performing in front of Bella Ragazza from 4:30pm to 5pm, will take a short break during the Christmas Tree lighting ceremony at Smothers Park, then resume at around 5:15pm and sing until 6:15pm.
David P Taylor Antiques – Candy for the little ones.
The Crowne – Wild Mountain Thyme will be performing from 6pm to 8pm.
Simply Chic – Light show & sounds by David Bell.
Convention & Visitor's Bureau – YELLOW CREEK BAPTIST CHURCH CHOIR will be singing from 5:30pm to 6:30pm.
FREE Chamber Music Performace by Daviess County Middle School Orchestra, conducted by Karen Higdon, at the Owensboro Museum of Fine Art from 2-4pm. (Donations accepted). 901 Frederica Street.
For updates, check Owensboro Holiday Stroll on Facebook.