The Greater Owensboro Chamber of Commerce is honored to have been named a winner of an industry award that recognizes outstanding communications and marketing work.
Presented annually, the Communications Excellence awards program is designed to celebrate exceptional work in the areas of advertising and marketing, campaigns, digital and publications.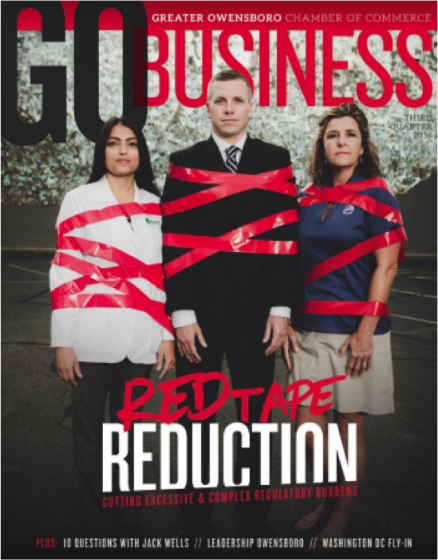 The Greater Owensboro Chamber of Commerce received an Award of Excellence for their GOChamber Red Tape Reduction magazine cover (3rd Quarter 2016 issue). The cover highlights the Chamber's focus on advocating for the removal of unnecessary regulations in order to create new job opportunities and stimulate the economy.
The cover features Jigna Wilson of Wilson Family Pharmacy, Adam Hancock of Riney Hancock CPAS, and Leigh Ann Kuegel of Kentucky Farm Bureau.
A panel of peers — communications and marketing executives from chambers of commerce around North America — evaluated submissions and selected top entries to receive recognition.
Award-winning entries represent the work of 41 organizations in 23 U.S. states and the Cayman Islands.
"Communicating effectively is vital for chambers of commerce and grabbing attention is becoming increasingly challenging. This year's award-winning entries represent work that's not only effective, but incredibly creative and innovative," said Ben Wills, director of communications and marketing for the Association of Chamber of Commerce Executives. "Communications professionals at chambers of commerce work tirelessly to promote their members, businesses in the community they serve, and the unique characteristics that make their state or region a top place to live, work and play."
GOChamber is a collaboration between the Chamber Staff and Tanner Publishing.
"Our publications are a leading way for us to communicate with our membership and the community at large about our mission and our work.  The creative energy between our staff and the team at Tanner Publishing yields fun and interesting results," said Candance Castlen Brake, President and CEO.
"Our volunteer cover models did great work too!"