The inaugural freshman class of the Owensboro Innovation Academy got a very special visitor today when Governor Steve Beshear stopped by for the Chamber of Commerce's ribbon cutting at OIA while he was in town for the Kentucky League of Cities conference.
"In eight years, I've cut a lot of ribbons," Governor Beshear said. "But there is not a more meaningful or more exciting ribbon cutting than right here today at Owensboro Innovation Academy, because this is the future of not only Owensboro and Daviess County, but of Kentucky as well."
Surrounded by members of the freshman class, Kentucky State Representatives, city and county commissioners, OPS Superintendent Nick Brake, and DCPS Superindendent Owens Saylor, Governor Beshear cut the ribbon to what he called "a continuation of Kentucky's long history of innovative education."
Beshear praised OIA for grooming a highly educated, highly skilled workforce for the future.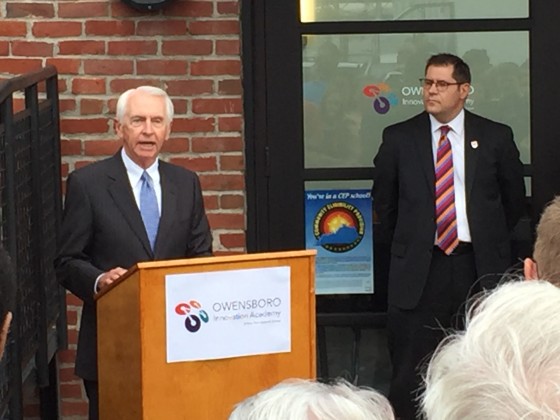 "The best thing that Kentucky can do to make itself more competitive is to strengthen its workforce, and the Owensboro Innovation Academy is going to do just that," he said.
OIA also provides a "fun way to learn," according to freshman Hannah Clark. "It's easier because we have smaller class sizes and we do projects together."
Alexis Dahnweih says her favorite classes are biology and health. "We do experiments where we can really learn. (OIA) is enjoyable because it's more hands-on."
"I think our facilitators (teachers) care more," said Sidney Ostby. "You can tell they put a lot of thought into what they do."
Madison Shemwell's favorite thing about OIA is that "it gives us a better opportunity for the future."
Jess Holton agrees. "Every student should have a chance to be in this because it's a really cool way to learn."
Read more about OIA and get a sneak peak inside here.