Sometimes a moment of inspiration comes from normal, routine, everyday things. For Eric Adams, the inspiration for his latest project came from right outside his window at Adams and Sons Clothiers, which is located on the ground floor of the Hampton Inn Waterfront hotel, giving Adams a perfect view of the downtown revitalization projects, Smothers Park, and of course the Glover Cary Bridge.
As a fairly new business, Adams was searching for a way to raise awareness about the menswear store and needed a creative idea to broadcast to the community what Adams and Sons is all about. Perhaps a limited edition neck tie with a great story behind it that could also support a worthy cause…
Some might call it a lightbulb moment, but the answer, he realized, was always right in front of him: the Blue Bridge.
"I drive that bridge every day on my way to work. It's iconic to Owensboro. To me, it's a symbol of connectivity," Eric said.
In doing some research on the Glover Cary Bridge, Adams discovered an interesting fact. The bridge was built in 1940, which means it is 75 years old this year.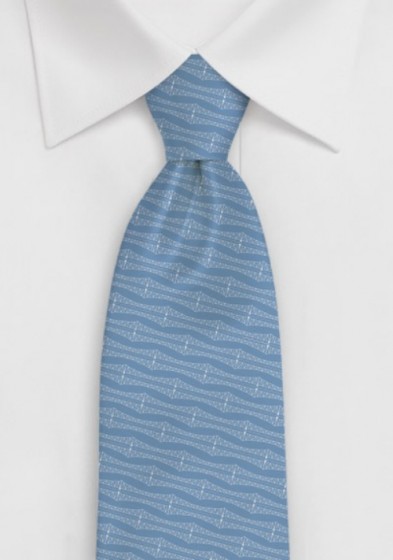 The idea for the Blue Bridge Tie was born: A limited edition run of 75 ties celebrating the 75th anniversary of the Blue Bridge.
To get the blue exactly right, Eric and his designer walked down to the bridge with a handful of pantone books to perfectly match the blue paint.
The design they created for the tie is actually a reverse of the bridge. The outline of the bridge is depicted in white and the backround is "blue bridge blue," making it immediately identifiable to anyone familiar with the Owensboro landmark bridge.
To take it the next step, Adams wanted the proceeds of the tie to somehow impact the community. After considering several charities, he decided to donate the proceeds to the Owensboro Health Foundation to help offset expenses for underpriveleged patients.
On Wednesday afternoon, Mayor Ron Payne presented the first Blue Bridge Tie to Governor Beshear, who received it graciously. The tie was officially unveiled at the Chamber of Commerce's Rooster Booster breakfast on Thursday, October 1st.
Once the remaining 74 ties are sold and production costs are paid, Adams expects to donate $7,500 to the Owensboro Health Foundation, which works out very nicely with the project's ongoing theme with the number 75.
If the project goes as planned, Adams expects to make a limited edition every year with the proceeds benefitting a different charity each year.
"We're a young business, but I want people to think that we are progressive minded, and that we have fresh ideas that help not only us, but also help our community," Adams said.
To see a tie for yourself, drop by Adams and Sons inside the Hampton Waterfront (401 W 2nd St, Suite 105), or contact him at 270-993-3245 or online at http://www.adamsclothiers.com.