The Kentucky Center for Smoke-free Policy's (KCSP) has awarded the Lee T. Todd, Jr. Smoke-free Hero Award to Gov. Steve Beshear for his adoption of an Executive Order prohibiting tobacco use and e-cigarettes inside and outside state buildings, grounds and vehicles.
Beshear was recognized for his courage, perseverance and continuous commitment to creating tobacco-free environments in the face of adversity. He was presented with the award April 23 at the Doubletree Suites in Lexington during the UK College of Nursing's KCSP annual spring conference.
"Gov. Beshear has transformed what it means to be a hero for tobacco which, for far too long, has been to safeguard the crop and promote its use no matter the consequences to public health. Through his leadership and courage, the governor has redefined the meaning of a tobacco hero by taking steps to reduce tobacco use and save lives," Ellen Hahn, professor in the College of Nursing at UK and director of the Kentucky Center for Smoke-free Policy, said.
The 2015 David B. Stevens, MD, Smoke-free Advocate of the Year Award was presented to Allison Adams, director of the Buffalo Trace District Health Department. Adams has been successful at recruiting and mobilizing citizens to advocate for a healthy community and works tirelessly at both the city and state levels. The advocate of the year is recognized for excellence in promoting secondhand smoke education and smoke-free policy. The 2015 Brian Early Mattone, Esq. Legal Counsel Smoke-free Support Award was presented to the Bingham Greenebaum Doll LLP.
Elected officials and advocates from Owensboro City Commission were also awarded the Smoke-free Indoor Air Endeavor Award. Members were recognized for their leadership in promoting the health of the citizens in their communities by enacting a partial smoke-free ordinance.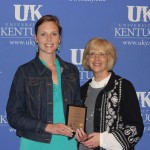 The first annual Tobacco-free Campus Award was presented to Eastern Kentucky University for their exceptional leadership and collaborative efforts in promoting a healthy environment for the college campus by implementing a 100 percent tobacco-free campus policy.
As of April 1, 2015, 41 Kentucky communities had implemented smoke-free ordinances, with 24 of those being comprehensive policies, meaning that they cover all workplaces including restaurants and bars. This translates to 32.5 percent of Kentuckians protected by comprehensive smoke-free workplace laws. Ten of these comprehensive laws also cover e-cigarettes. For more information about smoke-free ordinances and regulations in Kentucky, visit the Kentucky Center for Smoke-free Policy at www.kcsp.uky.edu.