Cadet Lt. Col. Jalyn Burroughs, a senior at Apollo High School, was recognized with the Air Force Junior ROTC Gold Valor Award during a special ceremony this morning (Friday, Oct. 27, 2017) in the AHS auditorium.
The Gold Valor Award – the highest honor that can be awarded to an ROTC/JROTC cadet – was presented in recognition of Cadet Burroughs' outstanding bravery and commitment to "service above self."
Chief Franklin Smith, who serves as a JROTC instructor at AHS, presented the citation to Cadet Burroughs during the awards ceremony in recognition of her response to a traffic accident that took place in Owensboro last month:
Citation to accompany the award of
Air Force JROTC Gold Valor Award to
Cadet Lt. Colonel Jalyn Burroughs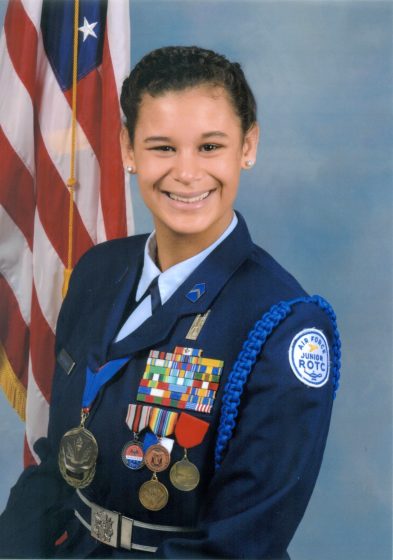 Cadet Lt. Colonel Jalyn Burroughs distinguished herself on September 3, 2017, when without hesitation, or thought of risk to life or limb, she responded to a serious vehicle accident that she had just witnessed.  Two victims were trapped inside an overturned vehicle and unable to get out.  Disregarding the inherent dangers of entering an overturned vehicle, Cadet Burroughs bravely crawled in the vehicle through the shattered glass window to unbuckle and free the first victim. Once the first victim was clear of danger, she worked to assist the second victim, reassuring the victim that her children were safe, as she worked to free her from the car. Once she was able to assist the victim out through the back of the overturned vehicle and evacuate the danger zone, the family was reunited with only minor injuries.  Cadet Burroughs was treated at the scene for minor cuts from the broken glass.  Cadet Burroughs' valorous actions to rescue the victims most certainly embody service before self above and beyond the call of duty and reflect great credit upon herself, her school and the Air Force Junior ROTC Program.
Chief Smith said the Air Force has awarded the Gold Valor Award to JROTC cadets only twice in the past 10 years.
"There is a very high standard of eligibility," he said. "This award at the JROTC level is the equivalent of the United States Air Force Airman's Medal, which is honors those who have saved lives in a non-combat situation."
Chief Smith said Cadet Burroughs represents the AHS JROTC program proudly. "She's our corps commander and our top cadet," he said. "She is a very outgoing and compassionate individual. Her career goal says a lot about her. She plans to serve our community in the field of law enforcement. Her recent action in this situation demonstrates her willingness to make sacrifices for the good of the public."