Only two more Fridays left of Friday After 5's "Summer of Love". Kentucky Wesleyan College is our weekly sponsor and we are celebrating by presenting KWC talent on all venues prior to the scheduled groups.  The KWC talent is listed below.
Friday After 5 line-up for August 25
5:30-6:30 pm: KWC talent Millie & Tyler
6:30-10:00 pm:  V-Groove (Top 40/R&B Dance Band)
Jagoe Homes patio stage on the BB&T Plaza at the RiverPark Center
6:15-7:00 pm:  KWC Saxophonist Gary Laughrey
7:00-10:00 pm: Chris Joslin (Bluegrass)
Atmos Energy Courtyard at RiverPark Center
7:00-9:00pm: KWC Talent
Cromwell Overlook Stage at the Smothers Park Fountains
7:00pm-9:30pm: Glenn's Gospel on the River featuring "Deena Ashley" "Johnson Family" and "Sneed Family".
Cannon Hall inside the RiverPark Center
6:00-7:00 pm: KWC talent
8:00-11:30 pm: Deuce 'n Quarter (Blues)
Don Moore Stage on the Kentucky Legend Pier at the Owensboro Convention Center
We'll have a live cartoon character, "Dory" courtesy of TD's Tuff Decisions Costumes. Don't be late for our "toast to the sunset" tonight at dusk and our Kroger Street fair featuring food trucks and fun and a "Salute to the KWC Panthers".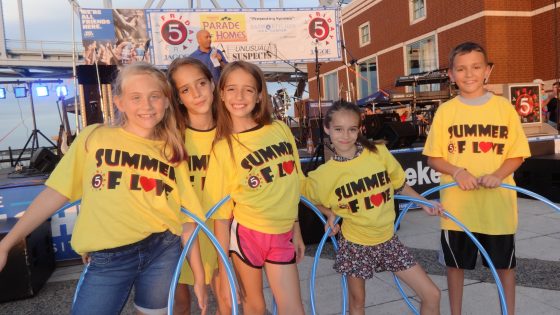 Plus free balloon animals, free petting zoo and popcorn for the kids and the FA5 Free Foto Booth for everyone! The US Bank Home Mortgage T-shirt cannon will be sending special T-Shirts into the crowd!  11 food trucks!
Tonight's Class PreUnions: Hancock County Class of 1972 and McLean County Class of 1998. Fun. Free. Friends. Friday After 5 is Where the Weekend Begins! FridayAfter5.com  More fun?  Go to: VisitOwensboro.com