Natalie Johnson and Katherine Taylor were busy making last-minute preparations for this weekend's East Bridge Art and Music Festival today at Studio Slant.
The two were working on the "coloring wall" this morning in the back room of Studio Slant. "This is the first year for the coloring wall," Taylor said. "People can color on both sides and it's something adults and kids can enjoy, so we think everyone will really like it."
For the first time, East Bridge is spanning two days this year in collaboration with Friday After 5. The coloring wall will be displayed on Veterans Boulevard near the fountains during Friday After 5 and throughout the festival Saturday. The photo booth, the "before I die" wall (where people write something they'd like to do before they die on the blackboard), and many artists will also be on hand during Friday After 5 festivities.
The food trucks and crowd-favorite chalk artists arrive Saturday.
Taylor says the Independence Bank Kids Craft Tent is also not to be missed. "They are bringing five different craft projects for the kids," she explained, holding up a decorated marionette horse puppet made from cardboard tubes. Kids can create and decorate one craft or all five if they want.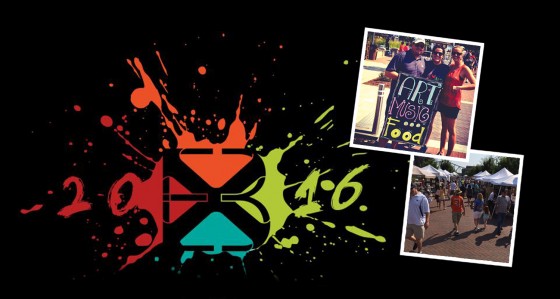 Read more backstory about the East Bridge festival in our previous post here.