Representatives from the Daviess County Public Schools district will attend the College Board's first-ever AP Day on Capitol Hill event in Frankfort on Thursday, Feb. 23. DCPS is one of eight school districts in Kentucky, and one of only 433 in the United States and Canada, who were recently named to the AP District Honor Roll in recognition of increasing the number of students participating in Advanced Placement courses while also increasing or maintaining the number of students earning AP Exam scores of 3 or higher.
Student representatives from Apollo and Daviess County high school have been invited to visit with legislators at the Capitol and Capitol Annex buildings, as well as AP coordinators and principals from each school. AHS seniors Gracie Bush and Isaac Malott; DCHS seniors Stephen Ward and Mason Clark; Advanced Placement coordinators Kathleen Kreke (AHS) and Therese Payne (DCHS); and principals Rick Lasley (AHS) and Matt Mason (DCHS), along with DCPS Superintendent Owens Saylor, will be guests of honor at an assembly with the Senate Education Committee and a special luncheon.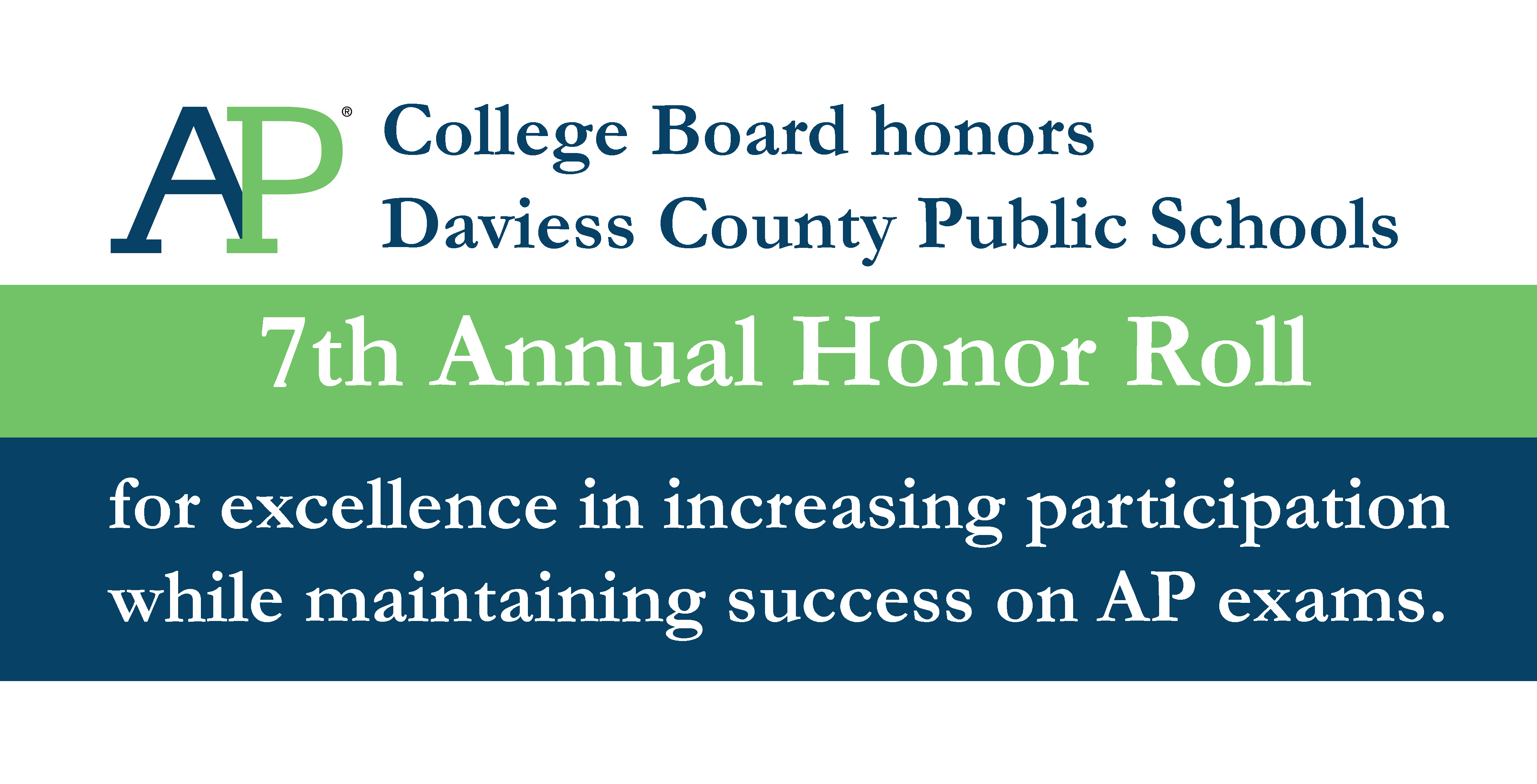 A recognition program will begin at 1 p.m. (ET) with remarks by Gov. Matt Bevin, Kentucky Commissioner of Education Stephen Pruitt, and Education and Workforce Development Cabinet Secretary Hal Heiner. 2017 Kentucky Teacher of the Year Ron Skillern of Bowling Green will also address those in attendance.
Gia Kaul, director of the College Board's southern regional office, said attendance at the event is a significant honor for DCPS, as well as an opportunity for educators and students to interact with legislators who advocate for ensuring that students have access to challenging coursework that prepares them for success in college and careers. The DCPS delegation "will participate in a special event with education policymakers acknowledging your achievements and sharing your best practices," Kaul said.
"Congratulations to all the teachers and administrators in this district who have worked so tirelessly to both expand access to AP and also to help students succeed on the AP Exams," said Trevor Packer, the College Board's head of AP and Instruction. "These teachers and administrators are delivering real opportunity in their schools and classrooms, and students are rising to the challenge."
As recently reported by the Kentucky Science and Technology Corporation, all students benefit from taking AP courses but data shows that minority and low-income students are significantly more likely to attend and successfully complete college when they are involved in AP studies and exams in math, science and English in high school.