A contractor for the Kentucky Transportation Cabinet has planned daytime closures along a section of KY 2127/Todd Bridge Road in Daviess County starting Friday, Jan. 15, 2016.
KY 2127/Todd Bridge Road will be closed to through traffic between KY 554 and Burns Road during daylight hours to facilitate ongoing safety work that started in December. There will be no marked detour.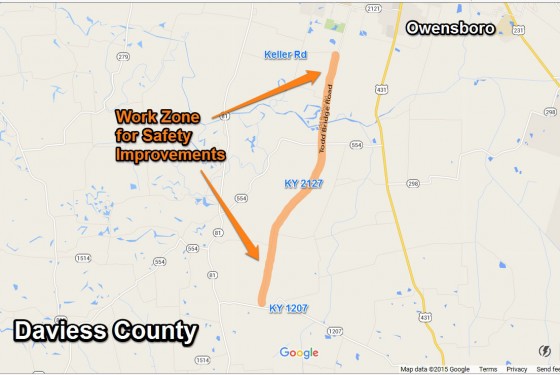 These daytime closures are expected to be in place for 5 or 6 working days. This section of the roadway will be opened to traffic during the overnight hours.
Motorists should be alert for one lane traffic with alternating flow controlled by flaggers along the remainder of this work zone which includes just under 6 miles of KY 2127/Todd Bridge Road.
The larger work zone for safety improvements runs along KY 2127/Todd Bridge Road from the KY 1207 intersection at mile point 0.0 extending northeastward to the intersection with Keller Road at mile point 5.760.
This section of KY 2127 was identified as part of Kentucky's Highway Safety Improvement Program (HSIP) as having an above average number of traffic crashes. The KYTC safety staff developed plans for a number of improvements aimed at reducing the crash rate.
The plan includes widening shoulders, replacing cross drains, placing channel lining in areas where ditches have eroded and spot improvements at 3 curves. It also includes new signage.
The contractor will be working through the winter months as weather permits with the goal of placing new pavement along this section in the spring.
Hazex Construction Company, Inc, of Henderson is the prime contractor on this $1,342,635 highway improvement project. The target completion date is June 30, 2016.