Earlier today, Judge Executive Al Mattingly declared a State of Emergency in Daviess County. See his Executive Order below: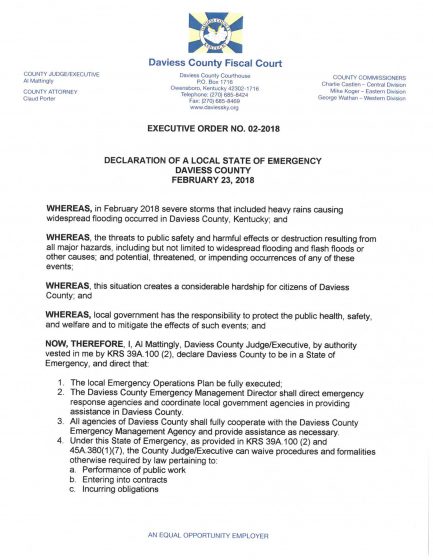 According to a Facebook post by Daviess County Emergency Management, "a declaration of emergency means the county emergency management director will be working with other county and city agencies to implement the established flood plan. It also means the county can recoup any costs over the normal budgeted limit associated with flood mitigation. This DOES NOT mean you are exempt from going to work or not allowed on roadways. Businesses must make the decision to close."
Daviess County Emergency Management also posted to Facebook the following updated list of road closures in the county:
From: Daviess County Road Department
RE: High Water (Roads Closed)
Date: February 23, 2018 (2:00 p.m.)
The following roads are closed due to high water:
Iceland Rd.
N. Chestnut Grove Rd.
Sutherland Rd.
Rockport Ferry Rd.
Little Hurricane Rd.
Wimsatt Rd.
Hagan Ln. S.
W. 5th St. Rd. (between Hwy 279 & Hwy 1554)
Potts Rd.
New Cut Rd. E.
Lower River Rd.
French Island Rd.
Flanagan Rd.
Griffith Station Rd.
Millers Mill Rd.
Old Hwy 54
Windy Hill Rd.
Jack Bosley Rd.
Boston Laffoon Rd.
Howard Ln.
Red Hill-Maxwell Rd.
Old Hartford Rd. bet. Hwy 231 & Poplar Log Bridge Rd.
Willett Rd.
Sharp Rd.
N. Jackson Rd.
Baird Rd.
E. Marksberry Rd.
Burns Rd. bet. Hwy 431 & Fitts Rd.
Poplar Log Bridge Rd.
London Pike
Bratcher Hill Rd.
Sutherlin Ln.
Fischer Rd.
Keller Rd.
Wyndcrest Dr.
Ben Ford Rd.
Haycraft Rd.
Stanley-Birk City Rd.
Fogle Rd.
Oakford Rd. bet. Hwy 60 & Hwy 1554
Haynes Station Rd.
Old State Rd.
Deserter Creek Rd.
Karns Grove Rd.
Monarch Rd.
Stevens School Rd.
Short Station Rd.
Jack Hinton Rd bet. Hwy 54 & Pleasant Point & bet. Hwy. 54 & Old 54
Joe Haynes Rd. bet. Haynes Station & Windy Hill Rd.
Windy Hollow Rd.
Lanham Rd.
Free Silver Rd. bet. Lanham Rd. & Hwy 1389
Pup Creek Rd.
Winkler Mt. Zion Rd.
Old Hwy 81 between Hwy 81 & Windy Hollow Rd.
Old Lyddane Bridge Rd. off Hwy 279
Laketown Rd.
Bell Rd.
Roads Added:
Wrights Landing Rd. bet. the River & Hwy 231/60