Professor Enid Trucios-Haynes, a member of the faculty at the Brandeis School of Law at the University of Louisville, will speak at Kentucky Wesleyan's annual Stanley Reed presentation, a Constitution Day event, on Monday, Sept. 12, at 7 p.m. in Rogers Hall at the Winchester Center. The presentation is entitled, "Is it constitutional to ban Muslims under the U.S. Constitution?" A nationally recognized scholar in immigration law, she teaches constitutional law, immigration law, international law, and race and the law.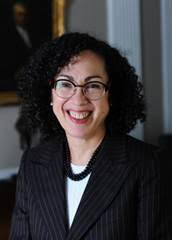 Professor Trucios-Haynes graduated from Stanford Law School, where she served as associate editor of the Stanford Law Review. After graduation, she worked in the litigation department of Rosenman & Colin in New York City. She practiced immigration and nationality law exclusively as a senior associate at Fragomen, Del Rey, Bernsen & Loewy, the largest immigration law firm worldwide, where she represented Fortune 500 companies and high-net-worth individuals, including Sir Paul McCartney and his band during his 1992 World Tour.
She joined the faculty at Brandeis School of Law in 1993, where she has received numerous awards. She is director of the Muhammad Ali Institute for Peace & Justice, chair of the Faculty Senate, trustee of the University of Louisville and co-director of the Brandeis Human Rights Advocacy Project. She served as president of the board of the ACLU of Kentucky from 2013-2016 and is secretary of the board of the Hispanic-Latino Coalition of Louisville. She serves in a leadership capacity with numerous University of Louisville committees. Professor Trucios-Haynes is a regular speaker on immigration issues and is active in local immigrant rights organizations. She directs an immigration externship at Brandeis School of Law.
The Stanley Reed Pre-Law and Politics Society at Wesleyan is hosting the event, which is free and open to the public. Stanley Forman Reed (1884-1980), a 1902 graduate of Kentucky Wesleyan College, was a noted attorney who served as United States Solicitor General from 1935-1938 and as an associate justice of the United States Supreme Court from 1938-1957. He was a native of Mason County, Ky.