A contractor for the Kentucky Transportation Cabinet is preparing to open the westbound U.S. 60 ramp to KY 54/Parrish Avenue in Owensboro on Monday, November 3, 2014.
[tw-divider]Update[/tw-divider]
The opening of the westbound ramp from US 60 to KY 54 and other traffic changes that were expected to take place today have been delayed until THURSDAY, November 6, 2014.
The contractor will be unable to open the ramp today as originally planned. The opening is being delayed.
All other information in the News Release below remains the same. However, the opening has been moved to THURSDAY.
[tw-divider][/tw-divider]
When the new 6-mile long U.S. 60 Extension opened on September 15th, a number of ramps had long-term temporary connections while additional work continued. The connection from U.S. 60 eastbound to KY 54 was the most significant. Traffic had to meander around KY 603/The Pleasant Valley Road Connector to the old lanes of U.S. 60 to make the connection to KY 54.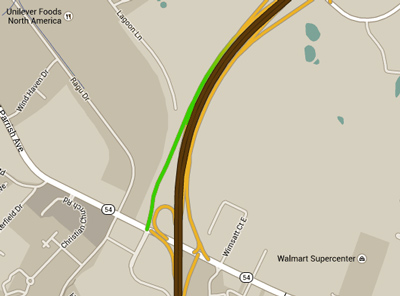 Starting early Monday, the contractor will pave one lane of the new permanent ramp. Once paving is complete along one lane, traffic will be moved to the new section while asphalt paving is completed on the remainder of the ramp. The permanent ramp is expected to be ready for normal traffic flow by about Noon on Monday, weather permitting.
Once final construction of the ramp is completed, there will be a number of other traffic changes in traffic configuration.
Motorists traveling from KY 144/East 4th Street (Old U.S. 60) will have to make a left turn onto KY 603/The Pleasant Valley Road Connector to access the new lanes of U.S. 60 via the Pleasant Valley Road interchange. Likewise, motorist exiting U.S. 60 who wish to access KY 144/East 4th Street will take the Pleasant Valley Road Interchange, then head north on KY 603/the Pleasant Valley Road Connector to make a right turn at the old bypass and continue northward to KY 144/East 4th Street. These traffic flow changes will be permanent with additional work planed at a later date to smooth transition points along this route. Motorists should use caution as this work continues in coming months.
This is expected to be the last major traffic flow change for this construction season. The contractor plans to ramp down work for the winter, then resume efforts to complete the remaining permanent connections next spring.
As part of the new configuration, Old U.S. 60 between Hawes Boulevard and KY 144 has become part of KY 2830 and Old U.S. 60 from KY 144 to the end of the old bypass has become part of KY 144. Signs indicating those route changes are up.
In its entirety, the $72.7 million U.S. 60 Extension Project runs from the KY 54 interchange with existing U.S. 60 to the Hawes Boulevard intersection at Hawesway Truck Stop east of Owensboro. It includes construction of eight bridges.
Opening of the new highway creates the final piece of what is a seamless, 100-mile, four-lane corridor between I-65 at Bowling Green and I-64 at Dale, Indiana. The low-bid contracts for both phases were awarded to Owensboro-based Yager Materials LLC.
While the main line of The New US 60 Extension is complete, there are still a few connecting points that require additional work. Motorists are asked to use caution along the new highway as it continues to be an active work zone with finish work extending into 2015.