Brescia University President Father Larry Hostetter put on a yellow construction hat to officially unveil renderings of a major $10 million campus renovation this morning at the Chamber of Commerce's Rooster Booster breakfast. The project, which includes an expansion of the current Campus Center and the construction of a new building on the corner of Ninth and Frederica Streets, is set to begin in the spring of 2016.
"There is one reason we are embarking on this project: our students," Father Larry told the crowd. Focus groups revealed that students wanted their campus center to feel more "like a second home, a place where they could feel comfortable for studying and recreation," Hostetter said.
In 2008, university leaders, faculty, staff and students came together to develop a 30-year master plan for the university. "With the renovation of our Campus Center and the construction of a new signature academic building, we are taking a significant step towards the fulfillment of our master plan," Father Larry stated in a press release. "We have a responsibility of making sure that the educational experience is as effective as possible in helping our students achieve their personal and professional goals."
The current Campus Center will undergo a complete redesign that will feature an open concept living and dining area, new admissions offices, and a new Spirit Shop to greet visitors, as well as a new health and wellness center that will give students, staff and faculty access to on-campus exercise facilities.
The gymnasium capacity will be nearly doubled so it will be able to accommodate up to 1,000 fans and have the ability to divide the primary playing court into two full practice courts. The addition of four new team locker rooms and office space for athletic coaches will also be included in the design.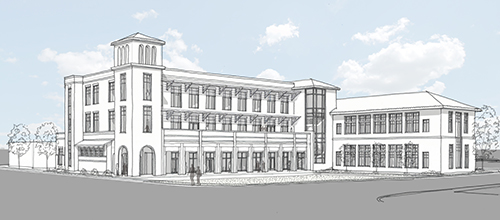 The new building at Ninth and Frederica will serve as a landmark entrance into downtown Owensboro. "That is something that came from talking to city officials. We hope the new building will be an iconic landmark on Frederica that can highlight where downtown begins," Father Larry explained.
Inside, it will feature an innovative digital learning studio, an auditorium that will be available for community use, and state-of-the-art classrooms and computer laboratories. The new building will also house the School of Business, the School of the Education and the School of Social Work.
A table full of Brescia students were also at Rooster Booster this morning. Senior Julie Whitfill is excited about the new project, but regrets that she'll be graduated before it happens. "I'm most excited about expanding the gym because it will have more seats for fans at all our sporting events," Whitfill said. "This (renovation) will almost make it look like a new school."
To pay for this project, a $10 million Capital Campaign kicked off in October of 2014, and Brescia has already raised $8.6 million in gifts and pledges, including five $1 million gifts.
EOA Architects, located in Nashville, TN, was selected by the university's Building and Design Committee to lead the two projects.
The university is currently hosting campus tours and information meetings pertaining to the capital campaign and community members are invited to attend.