Burns Middle School students and staff are participating in a "One Book, One School" project in which every member of the BMS family reads the same book and participates in discussions and learning activities based on the story.
The 2016 selection is "Saving Wonder," a debut novel written by Mary Knight. Knight will visit BMS from 8:44 a.m. to 2:12 p.m. Wednesday, Nov. 30; and from 9:51 a.m. to 3:20 p.m. Thursday, Dec. 1, to meet with students and share insights about the book, its inspiration and its message. Knight will talk about the power of words in making a difference in the lives of others.
"Saving Wonder" is a realistic fiction novel set in eastern Kentucky. The main character, Curley Hines, and his friend Jules take a stand against the mining company that is threatening to remove the top of the mountain where they live.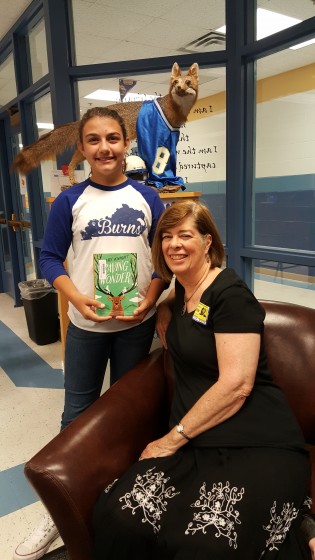 " 'Saving Wonder' marks our 11th 'One School, One Book' program at Burns Middle School," said BMS media specialist Elizabeth Muster. "Joanne Berry started the tradition, and after her retirement last year, our faculty voted to continue the program in order to foster literacy and community. The 'One Book' committee and I selected Mary Knight's debut novel this year because it correlated with our school-wide theme 'STAND,' because it is set in Kentucky and written by a Kentucky author, and because it incorporates vocabulary in a unique way. Students and staff have been reading aloud a chapter a day together since we returned from fall break, and we finish today (Nov. 14). All students will be creating poems and collages that illustrate what they stand for during their practical arts classes on Friday (Nov. 18) and Monday (Nov. 21) as a 'Sharpen the Saw' activity. We are so excited for the author to visit, and happy for her as 'Saving Wonder' was recently bestowed a Parents' Choice Silver Honor award."
Muster said she was introduced to the book by BMS student Emma Kate Osowicz to make arrangements for the upcoming programs.
Knight will also speak and will autograph copies of her book from 6:30 to 7:30 p.m. Nov. 30 at the Daviess County Public Library. For more information about that event, contact Sarah Jacobs, teen programming coordinator, at 270-684-0211 ext. 248 or [email protected]. "This is an excellent opportunity for students from other middle schools and high schools to meet a Kentucky author who writes about issues that affect many Kentuckians," Jacobs said.