One of the first things guests notice about Holiday World and Splashin' Safari is how bright, clean, and cheerful things look inside. It's the reason readers of Amusement Today magazine have voted Holiday World "Cleanest Park on the Planet" for more than a decade.
That is exactly what Director of Communications, Paula Werne, says the company strives for.
"We challenge ourselves to make sure the park looks as good at the end of each day as it looks at opening each morning. It isn't always easy, but it's important."
But what guests may not notice is a six-man paint crew working behind the scenes year-round to keep the park's buildings, rides, and attractions looking brand new.
"You don't see us when you come to Holiday World," says Owensboro native and paint shop manager, Tommy Johnson, "especially in the summer. But you see our work everywhere."
That's because the painters start at 5 a.m. during the season so they can get work done in public areas before the park opens. Then, as guests arrive, they generally work out of sight in one of the buildings or back in the shop where the guys have a paint booth specially-made for roller coaster cars and other ride vehicles.
In the off-season, the painters focus on rides and attractions that need a fresh coat. "Right now, we're working on the Scarecrow Scrambler cars, because we're giving them a whole new look this year. Next, we're painting the Legend cars," Johnson said in an early March interview. As the mechanical and maintenance crew notices equipment that needs attention during their inspections, projects get handed off to the paint crew.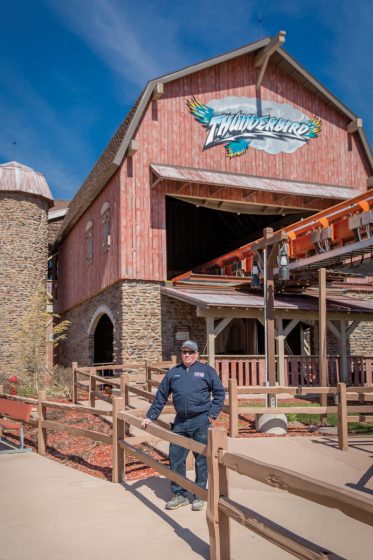 From his 22 seasons of painting at Holiday World, the project Tommy says he is most proud of is theThunderbird area, including the Thunderbird maintenance building, the Will Power  flywheel building, the Pepsi Oasis, and the huge Thunderbird station and queue, where coaster enthusiasts prepare to be launched 14 stories in the air at 60 miles per hour.  The "1800's farm scene" motif was conceptualized in-house, built by the park's carpenter shop, and then painted under Johnson's direction. "To make the wood have that rustic look, we started with a base coat, then added shadows, shading, and highlights," Johnson explained. Like many attractions, the goal is for the set to become part of the ride's experience while guests stand in line for the Thunderbird. The set design, along with dramatic lighting effects and period memorabilia, add to the imagination and help bring guests "into" the attraction.
Compare the Thunderbird's paint scheme to the blacklight paint in the Gobbler Getaway (laser turkey hunt ride) or the patriotic red, white, and blue paint scheme of the Firecracker. That wide variety is what Johnson says makes his job so much fun. "What I enjoy most is seeing the finished product. And the creativity of it. Some things we paint to look old, other things we paint to keep them looking brand new, and some things we restore to the original colors. We make the whole park look clean and fresh."
Johnson and his wife, Sherry, who works in surgery at Owensboro Health, live in Owensboro off Highway 54. Before painting at Holiday World, Johnson was a painter with Jim Haynes Painting Company and Bill Elliott & Sons Painting Contractors in Owensboro. "My best friend's dad was Bill Elliott, so that's how I got into painting," Johnson recalled from his early days. "Working for Bill was how I got good and comfortable with painting. We did commercial and residential." With those two employers, Tommy painted houses all over Owensboro in neighborhoods from Hillcrest to Tamarack Park and the Summit, to name a few.
When a friend told him about the opening at Holiday World, Tommy knew it would be a great opportunity. "This is a great place to work, with good people and great benefits," he said.
By nature, he's just a likeable guy, a sentiment echoed by Paula Werne. "He really is one of our favorite co-workers," Werne said with a twinkle in her voice. "Everybody (on staff) knows Tommy and likes him. He works right along with a lot of other departments. We really couldn't ask for a nicer guy."