Everyone knows Moonlite is world-famous and Old Hickory won BBQ Pitmasters, but don't forget about Ole South; Owensboro's, "little brother" of barbecue is starting to pack a serious punch! And just down the road, Henry's Boogalou BBQ has been gaining some serious attention in its first month of business. Barbecue lovers in Owensboro: it's worth your trip to the east side.
[tw-divider]The "New" Ole South [/tw-divider]
If you've driven down 54 recently, you probably noticed the new signage at Ole South BBQ. Owner Greg Floyd knew Ole South needed a new look when he took over two years ago. Under Floyd's direction, Ole South is looking new inside and out. The first thing Greg did was shut down for two months and give the restaurant a good cleaning. It was a risky move; the fear was losing customers, but the regular customers did come back – and then some. The new sign and marquee are very eye-catching, giving the "new Ole South" a fresh image.
How do you stand out in a town filled with long-standing BBQ giants? For Floyd, he focuses on four areas: catering, dine-in, carry-out, and drive-thru. "I started thinking, what will draw people in here?" Floyd said. One idea Greg started was offering a breakfast buffet. Another was changing the non-barbecue item on the buffet each day. (Meat loaf, country fried steak, fried chicken, catfish, etc). The self-serve salad bar also helps them stand out, since there are only a handful of self-serve salad bars remaining in town.
With steady growth the past year and a half, Ole South is now focusing on expanding its catering operation.
[tw-divider]Boogalou BBQ[/tw-divider]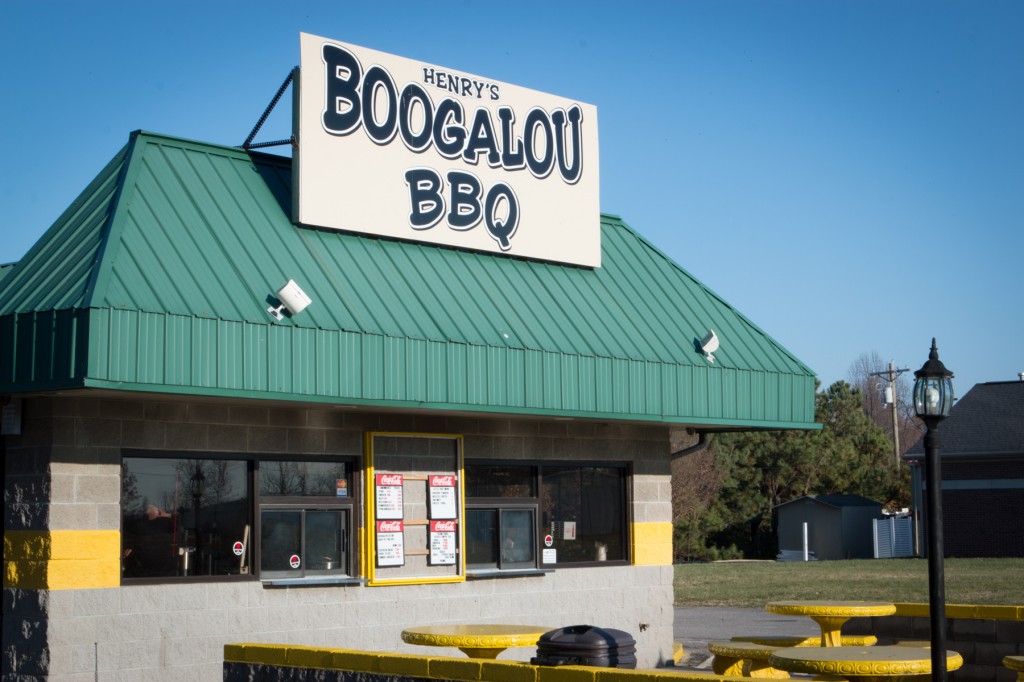 After gaining a reputation for "Henry's Boogalou BBQ" sauces and dips over the last 10 years, Roy Henry took the plunge and opened a stand-a-lone restaurant at 4313 Gate Way (formerly DDI) on November 6th. It's a small building with no indoor seating, which totally fits Boogalou's strategy of starting with the basics and building from there. "We believe the best table you can eat on is your own," Henry explained, which is why they only offer drive-through and carryout. That sales model is what helps set them apart by providing "quality barbecue and convenient service."
For Henry, opening a bbq restaurant has been a long-time dream, but the combination of timing, location, and finding the perfect partner made this the prime opportunity. That perfect partner is Sonny Day, a former chef at Tumbleweed and Country Club. Together, they make a winning combination. "I've got the passion, sauce, and dip. He's got the kitchen knowledge and experience," Henry explained. "He's laid back and I'm more outgoing. We complement each other perfectly." Day is also known for his soups. In addition to Boogalou stew, their spin on traditional burgoo, Sonny makes a soup-of-the-day with unique creations like chicken pot pie soup and Stromboli soup.
Sandwich portions are another defining quality for Boogalou. They serve a 5 ½ oz sandwich bun compared to the typical 4 oz. There's a mix of traditional and non-traditional items on the menu. Pulled pork? Of course. But instead of mutton, Boogalou smokes a bologna steak that sells like gangbusters. Chicken? Of course. But Sonny only cooks up thigh meat because it's juicier and tenderer than traditional white meat servings.