With election season in full swing, community members are assuredly familiar with the candidates and their positions. But an unlikely individual was present at the Red White and Blue picnic last month and started a new buzz around Owensboro. It appears that Brescia University's Barney the Bearcat is becoming more and more interested in the political process, just in time for 2016.
"With the many issues facing Americans today, including rising higher education costs, student debt, and jobs for college graduates, Barney has become increasingly concerned by and interested in addressing these issues," stated Jake Davis, Director of Annual Giving and Chief Campaign Strategist. "And after numerous conversations with officials in Iowa, New Hampshire and states across the country, it is becoming clear to Barney that people are looking for someone who can make a difference."
Barney wants to represent all those who seek to better their lives and the lives of those around them through education.
Barney has a long history of making a difference, according to Davis. "Brescia University is rooted in service to others through education. From its origin as a junior college for women founded by the Ursuline Sisters of Mount St. Joseph to its relocation to downtown Owensboro in an effort to meet the needs of veterans returning from World War Two, all the way to present day where students from around the world can earn their degrees online, Brescia University has always sought to make a difference by adapting to the times and meeting the needs of the people. And as the face of Brescia University, Barney is heavily involved in carrying out the University's mission of providing a student-centered, quality education to students in both traditional and online classes. But Barney has made it a point to ensure students are not only receiving a diploma when they leave Brescia, but that they are becoming servant leaders, who have been educated mind, body and soul and are ready to go out and make a difference in the lives of others around the world."
This past year the institution reported record enrollment, with the total number of students calling Brescia home surpassing 1,000 for the first time in nearly 50 years. With this exceptional growth, it would make sense that Barney would choose now to expand his reach far beyond Owensboro.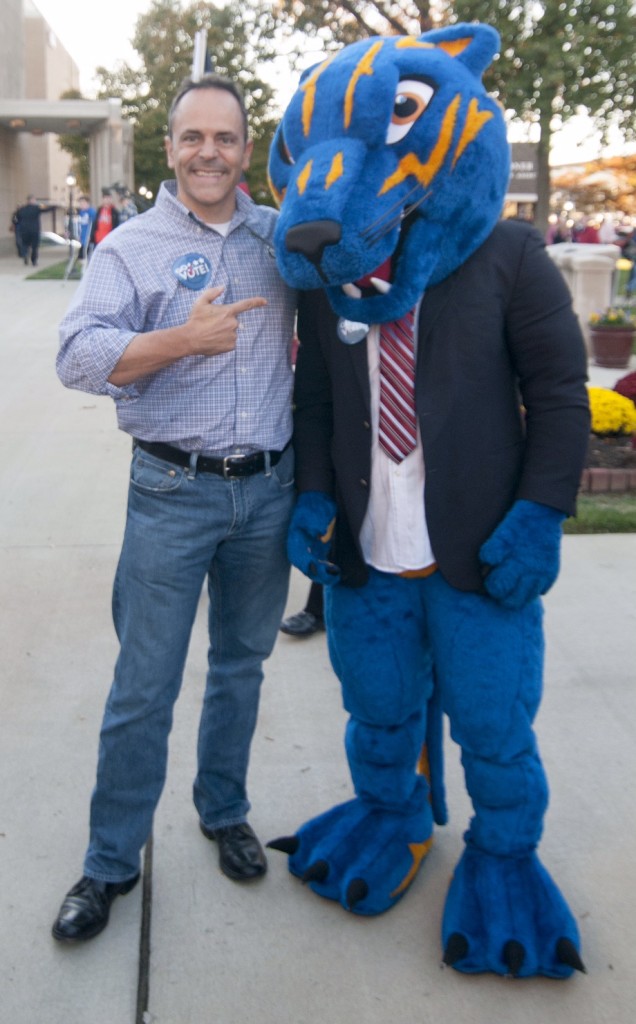 "We live in an increasingly connected world, and Barney understands and embraces that," Davis said. "Last year, students from 47 states and 16 countries called Brescia home. Be it a single mother from California who is taking online classes, a Nigerian student experiencing America for the first time, or a freshman from Whitesville who will be the first in his family to earn a college degree, Barney wants to represent all those who seek to better their lives and the lives of those around them through education."
"I would vote for Barney," stated C.J Bright, a senior Political Science major at Brescia University. "For our school, Barney represents everything that the Brescia Difference entails. He's the face of a caring body of faculty and staff members, he's the spirit of a championship athletic program and he's the heartbeat of a holistic student life. But most of all, Barney is a voice for the voiceless and he makes a difference every day in my life and the lives of my classmates."
Brescia was also named a 2015 Business of the Year by the Greater Owensboro Chamber of Commerce, highlighting Barney's support from community partners and their investment in his mission. And with esteemed organizations such as the Princeton Review and U.S. News & World Report calling Bresica a Best College in the Southeast and a Best Regional College in the South, it's clear that Barney the Bearcat's national reputation is growing. And it appears Barney is preparing to capitalize on his recent wave of publicity.
An official invitation was released earlier this month for the Greater Owensboro Chamber of Commerce's November Business After Hours to take place at Brescia University, and officials close to Barney state that he has big news to share at the event. The event will take place on Thursday, November 19 from 4–6 p.m. in Brescia's Campus Center.
Though an official announcement has yet to come, it appears that Barney has set his sights on 2016.