The Brescia University Art faculty, as well as art and special education students at Brescia University, have partnered with Arc of Owensboro Opportunity Center to provide art education for individuals with intellectual and developmental disabilities on a college campus.
The collaboration has allowed Brescia University students studying in the special education program a hands-on experience to develop the skills and knowledge taught in the classroom.
"This opportunity allows the Brescia students to develop the qualities and character of servant leadership, as well as provides joy and validation of their career path," stated Tina Wolken, Assistant Professor of Special Education. "They also build authentic experience related to their major of art and special education. Assisting in the delivery of instruction from the art faculty mirrors their role as a special education teacher in an inclusive setting."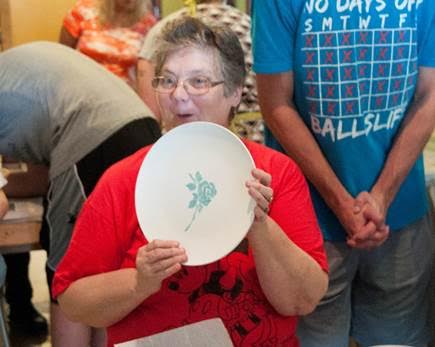 The participants visited campus each Friday from 12:30 pm – 2:30 pm during the fall semester to practice skills in each of the curriculum areas, including ceramics, mosaics, drawing and painting. They spent three consecutive Fridays in each area with one-on-one assistance from Brescia University art and special education students for each session.
"The Brescia University Art faculty generously agreed to offer specialty classes in their respective areas of ceramics, mosaics, and drawing. Individuals from the Arc are able to have hands-on experiences under the tutelage of Brescia University faculty members and for many, it is their first opportunity in all or some of these media," said Wolken.
Annual Celebration
To commemorate the partnership and celebrate the 60th anniversary of the Arc of Owensboro Opportunity Center, a 60th Anniversary Celebration will be held on November 17th at the RiverPark Center beginning at 6:15 pm. The celebration will feature a buffet-style dinner, a live and silent auction, as well as, art pieces by local artists.
Dinnerware, mosaic walking stones, and paintings created by participants of the program at the Friday sessions will be used to adorn the tables and will be available as silent auction items. All proceeds will go to help fund Arc programming at the Opportunity Center and Activity Hall.
Tickets are $40, or a table of eight can be purchased for $320.00. To purchase tickets, or to sponsor an Arc of Owensboro/Opportunity Center Inc. participant, please contact Opportunity Workshop at 270.685.2976 or [email protected]
For more information on the Arc of Owensboro/Opportunity Center Inc. and their mission, visit arcofowensboro.com.