Holiday World & Splashin' Safari officials expect to receive a record number of job applications as they prepare to fill 2,200 seasonal positions in the coming weeks.
"We're looking for friendly and energetic individuals who want to help families enjoy their vacations with us," says Holiday World & Splashin' Safari President Matt Eckert. "We need ride operators, lifeguards, and sweepers, plus staff for admissions, grounds, shops, games and foods. We're like a small city – and have quite a variety of jobs available."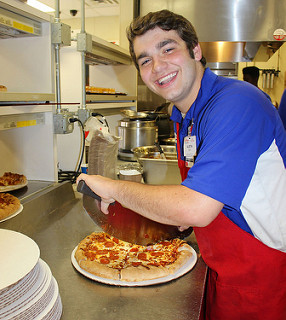 Most of the park's seasonal positions are available to applicants who will be 16 years and older by April 2016. A limited number of jobs require a minimum age of 14 years on the date of application. Retirees and other adults seeking seasonal employment are also encouraged to apply.
Job seekers should visit HolidayWorld.com/Jobs to view photos, videos, and job descriptions, plus fill out an online application.
Seasonal benefits include: a personal Season Pass, park food and merchandise discounts, free soft drinks, employee parties, incentive and awards programs, free admission to other parks, and more.
This season, the park will again offer an Employee Transportation Program for seasonal employees who would not otherwise have a ride to work. Available at a nominal fee, bus rides will be offered from Evansville, Newburgh, Haubstadt, Huntingburg, Boonville, and Tell City, Indiana, plus Owensboro, Kentucky.
Holiday World opens its 70th season on April 23.
Splashin' Safari's opening day is May 12.
For more information about seasonal and full-time job opportunities, visit HolidayWorld.com/Jobs. Please email [email protected] or call 812-937-5252 with employment questions.